4 holiday shopping hacks to help keep you on budget
Nov 15, 2022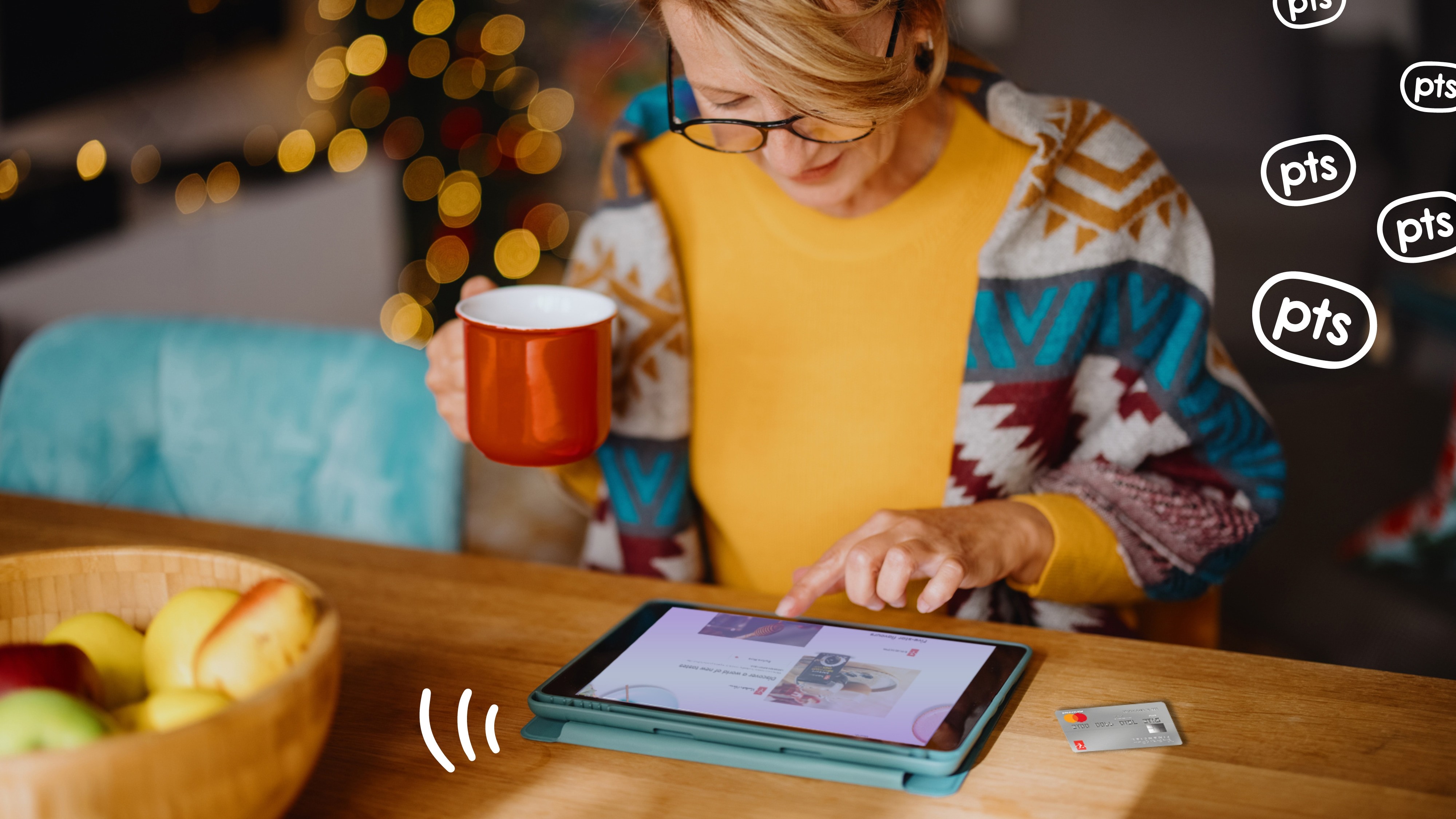 It's not quite time for resolutions, but we'd like to suggest an early one: become the holiday shopper you've always wanted to be. Super organized, budget savvy, deal hungry, and plugged into maximizing your points earning potential—who is this?! This is you.
Our four-point plan will help you keep your cool and stay on budget—despite inflation, and the Black Friday/Cyber Monday excitement. Here's how to keep your holiday shopping on budget this season:
Make a list, set a budget
Not sure how much to spend on gifts this year? Use the handy Insights and other digital banking features (opens in a new window) in the PC Financial® app to see how much room you have in your budget. Then take it one step further: make a list of the people you intend to buy for, along with gift ideas and a rough price range for each. There's something about checking things off a list—it keeps you organized, but it also feels so good! Mapping out your strategy will keep your shopping focused and off-budget impulse purchases to a minimum.
Research before you commit
Planning to make some big-ticket purchases on Black Friday or Cyber Monday? Doing a little digging beforehand may save you money. Compare the regular price of items on your wish list to sales prices to know how much you'll save. Read reviews and be clear about return policies across different retailers. Doing your homework can help you spot the best deals when it comes time to buy.
Prioritize points + get to free fast
Why not earn rewards on the money you're going to spend on the holidays anyway? Shop Black Friday and Cyber Monday sales with your PC® Mastercard® to earn up to 30 PC Optimum™ points¹ for every dollar you spend at participating stores, like No Frills®, Real Canadian Superstore®, Loblaws® and Maxi®, and up to 45 points for every dollar² spent at Shoppers Drug Mart® and Pharmaprix®. Or pay for your holiday purchases with a PC Money™ Account to earn up to 10 points per dollar³ when you shop. Then redeem⁴ the points you've earned on purchases of gifts from participating stores to keep crossing folks off your list, or to treat yourself—you've earned it.
Have you signed up for a PC Money™ Account (opens in a new window) and a PC® Mastercard® (opens in a new window) yet? Apply today and get the convenience of accelerating your points earning potential at your fingertips.

Shop early
Over the years, Black Friday and Cyber Monday have morphed from strictly single-day events to multi-day sales bonanzas. Some retailers launch their sales before Black Friday and Cyber Monday, which means you can start your shopping and may be able to get better deals even sooner. This also may help you beat the rush and avoid the risk of your wish list items being unavailable. But it also pays to take a measured approach to the excitement: Black Friday deals may not necessarily be the lowest prices of the year—Boxing Day and end-of-year clear-outs count too, but they do come later, which isn't ideal if you're looking to save on your holiday shopping.
As with any great journey—and Black Friday/Cyber Monday sales can be a journey, indeed!—it pays to have a plan. With these tips, you are now ready to embody the holiday shopper you always wanted to be—we knew you could do it!
General information not about PC Financial® products is provided for your reference and interest only. The above content is intended only to provide a summary and general overview on matters of interest and is not a substitute for and should not be construed as the advice of an experienced professional. PC Financial® does not guarantee the currency, accuracy, applicability or completeness of this content.
¹Earn a minimum of 10 PC Optimum™ points per dollar on all of your purchases charged to the credit card. Any bonus PC Optimum™ points offers available to all PC Financial® Mastercard® customers are calculated based on the regular earnings rate of 10 PC Optimum™ points per dollar spent. This offer may be terminated or changed at any time.
²All PC Optimum™ members earn 15 points per dollar on eligible purchases at Shoppers Drug Mart® and Pharmaprix®. When you use your PC Financial® Mastercard® you will earn additional points per dollar: 10 points per dollar for PC Financial® Mastercard® cardholders; 20 points per dollar for PC Financial® World Mastercard® cardholders; and 30 points per dollar for PC Financial® World Elite Mastercard® cardholders.
³Earn 10 PC Optimum™ points (5 regular PC Optimum™ points plus a bonus of 5 PC Optimum™ points) per dollar of your purchases with your PC Money™ Account. President's Choice Bank reserves the right to cancel, change or extend regular and bonus points earning rates at any time. PC Optimum™ points will be deducted for any returns. Account must be in good standing at time of qualifying transaction and awarding of points.
⁴Minimum redemption is 10,000 PC Optimum™ points (worth $10 in rewards) and in increments of 10,000 points thereafter at participating stores where President's Choice® products are sold. Some redemption restrictions apply; visit pcoptimum.ca (opens in a new window) for details, participating stores and full loyalty terms and conditions.