5 tips to spring clean your finances, from a Certified Financial Planner


Apr 28, 2023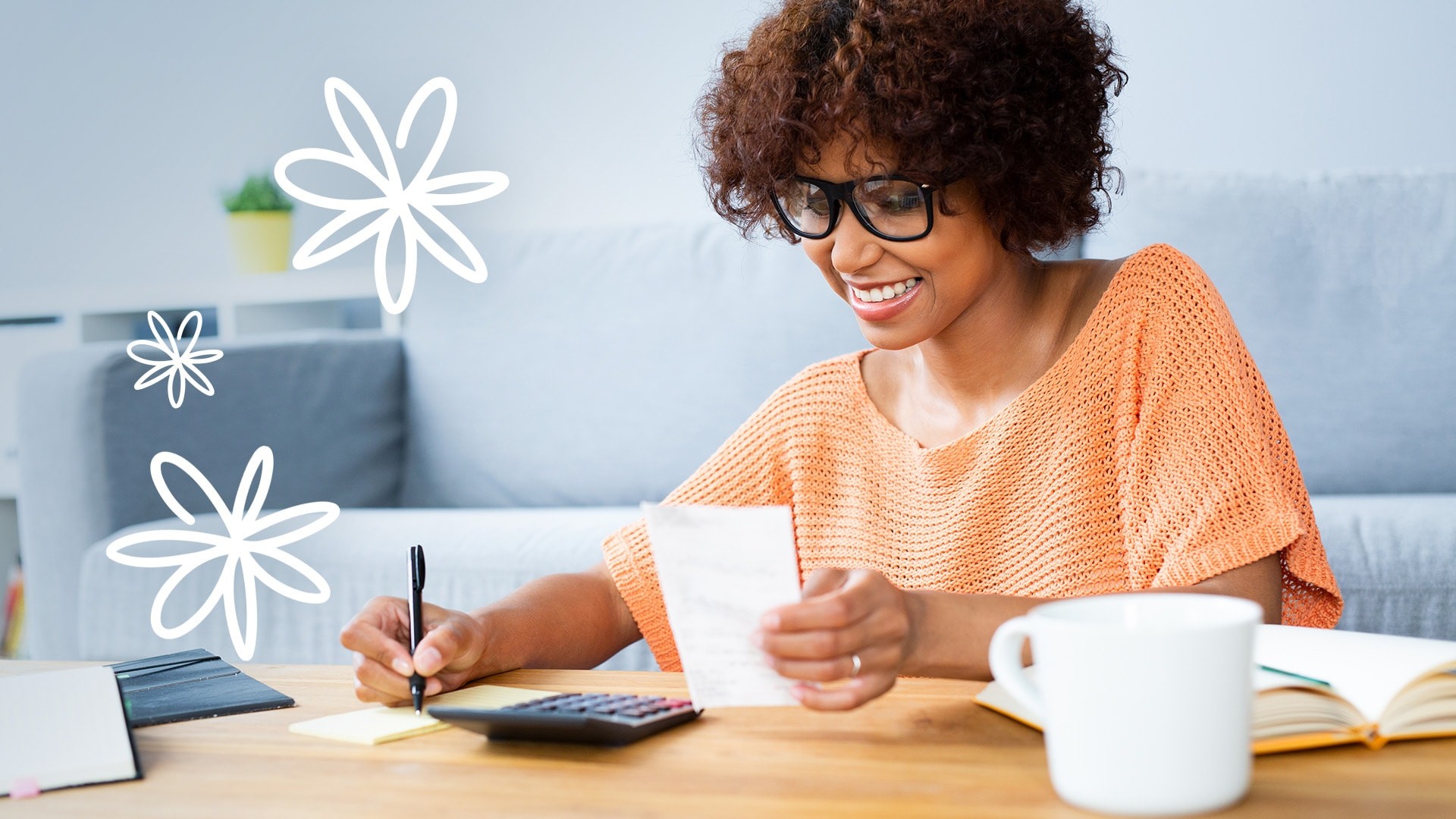 When spring arrives, it brings with it the urge to clean. As you dust and de-clutter, you might consider a reset and refresh of your finances too. As the weather gets warmer and plants and flowers prepare to bloom, it's such a good opportunity to revisit the money habits and beliefs that no longer serve you and could be preventing your finances from getting greener. Just like deep cleaning your kitchen or overhauling your wardrobe requires time—and a bit of elbow grease!— sometimes, spring cleaning your finances can feel daunting. If you're procrastinating on a financial check-in, I totally get it. But I'm here to tell you that it doesn't have to be complicated. In fact, my tips can help you simplify things and may actually make the process fun. Imagine that. And in the end, you'll be left with the peace of mind that comes after any good clean out. Let's get into it.
1. De-clutter your spending.
Just like you might consider donating items from your closet you haven't worn in months (or years), this is all about looking critically at your expenses to spot areas that are easy to cut. I'm talking about reviewing any non-essential spending that might not serve you anymore. Maybe it's a New Year's resolution that's fallen off—a class, a membership—or a monthly subscription you're just not keeping up with anymore. We call these sneaky expenses "ghost spending" — it's easy to lose track of them and not notice the money you're spending. As you review, choose the expenses you can't live without and let go of the rest, so you can be more intentional about your spending. The ultimate benefit: this exercise can lead you to finding additional budget that can be redirected to other areas.

2. Track with tools you trust.
Follow the money — but you don't have to do it alone. Time-saving tools like the Insights feature in the PC Financial® app (opens in a new window) can help you track your spending per category, so you can input more realistic estimates into your budget. The Insights feature also gives you a clear picture of your spending patterns, so you can easily keep an eye on your expenses and spot areas where you might be able to cut back.
3. Make budget check-ins a regular thing.
This may be the first time you dig deep and look at your finances—that's okay. But just like the regular cleaning and maintenance you do on your home, your finances and budget also need regular check-ins, especially around tax season. I recommend weekly or bi-weekly check-ins and three to four finance deep-cleans per year—taking a bigger view allows you to stay on track and course correct when necessary. These seasonal deep-cleans help ensure your short-term financial goals align with your long-term ones and that you're really distinguishing between wants and needs. For example, you may want to go on a summer vacation this year but you may have recently learned that you will need a new roof before winter. Your financial priorities really can change from season to season. To help you dive into deep cleaning your finances, I've put together this quarterly checklist:
Review your spending vs your actuals for each spending category over the quarter.

Think about your needs versus your wants.

Reduce discretionary expenses to stay on track of your savings goals.

Challenge yourself to increase your monthly savings goals by starting or increasing auto deposits into your savings.

Review all of the different ways you can earn rewards, like with your PC Money™ Account and PC® Mastercard®.

Organize and file your financial documents.
Making these check-ins part of your routine helps you become more aware of your finances, taking the intimidation out of big financial decisions and conversations.
4. Don't be afraid to modify your budget.
When you're saving for a goal, carefully consider every purchase to ensure it aligns with your budget or leaves enough room for other priorities (like a special occasion or an upcoming trip). I say this every day and it applies to everything in life: if it's not working for you, adapt and change. Updating your budget doesn't mean you didn't succeed—it shows that maybe your initial plan didn't align with your lifestyle or spending habits. And that's okay. Choosing the right budgeting style (opens in a new window) and introducing regular budget check-ins gives you the opportunity to decide if your budget needs modifying or if you can reduce your spending in certain areas. While reducing your expenses may not always be realistic, reallocating some of your budget based on where you're spending more can help you build a successful financial plan that meets your needs.
5. Find ways to make your money work harder.
One way to stretch your dollar further is to use a no monthly fee bank account that rewards you. With the PC Money™ Account, you can earn up to 10 PC Optimum™ points¹ for every dollar you spend everywhere you shop. You can also get rewarded for the everyday banking activities you're already doing. Did you know you can earn up to 5,000 bonus PC Optimum™ points² for paying your bills with your PC Money™ Account each month (with up to five $50+ bill payments)? You can also earn up to 5,000 points per month³ when you set up your payroll or pension direct deposit with your PC Money™ Account.
Another way to keep stacking your points is by applying for a PC Mastercard®, which helps you to earn up to 30 points⁴ on every dollar you spend everywhere you shop. No matter how you earn your points, you can redeem⁵ them towards essentials to supplement your budget or to treat yourself. That's what it means to make your money work harder for you!
I hope these 5 tips help you stay on top of your finances more effortlessly and develop great financial habits that last all year. And don't forget to sign up for a PC Money™ Account (opens in a new window) or a PC® Mastercard® (opens in a new window) to continue to make your money work harder for you.

General information not about PC Financial® products is provided for your reference and interest only. The above content is intended only to provide a summary and general overview on matters of interest and is not a substitute for and should not be construed as the advice of an experienced professional. PC Financial® does not guarantee the currency, accuracy, applicability or completeness of this content.
¹Earn at least 5 PC Optimum™ points per dollar on qualifying purchases with your PC Money™ Account, wherever your card is accepted. Earn 10 PC Optimum™ points (5 regular PC Optimum™ points plus a bonus of 5 PC Optimum™ points) per dollar on qualifying purchases at participating Loblaw banner stores, Shoppers Drug Mart® stores, Joe Fresh® stores, and Esso™ and Mobil™ stations in Canada. Bill payments, electronic funds transfers, account fees and interest are not qualifying purchases for the purpose of earning PC Optimum™ points. PC Optimum™ points will be deducted for any credits or returns. President's Choice Bank reserves the right to cancel, change or extend regular and bonus points earning rates at any time. Account must be in good standing at time of qualifying transaction and awarding of points.
²Earn a bonus of 1,000 PC Optimum™ points for each of up to five bill payments of $50 or more to unique payees, per calendar month, made using a valid PC Money™ Account. Bonus points will be awarded to your PC Optimum™ account within 2-3 weeks of a successful bill payment.
³Earn a monthly bonus of up to 5,000 PC Optimum™ points when you deposit funds to your PC Money™ Account using automatic payroll or pension direct deposits. Payroll or pension deposits totaling between $1,500 and $2,999 within a calendar month will earn a bonus of 2,000 PC Optimum™ points, and deposits totaling greater than $2,999 will earn an additional bonus of 3,000 PC Optimum™ points, for a maximum monthly bonus of 5,000 PC Optimum™ points. Limited to one bonus per customer, per month, even if you have multiple PC Money™ Accounts. The classification of a direct deposit as a payroll or pension direct deposit is determined solely by President's Choice Bank. Interac e-Transfer® services, electronic funds transfers, and other forms of deposits or transfers to your account do not count towards this bonus. Bonus points will be awarded to your PC Optimum™ account within 2-3 business days of when you meet the minimum direct deposit amount(s).
⁴Earn a minimum of 10 PC Optimum™ points per dollar on all of your purchases charged to the credit card. Any bonus PC Optimum™ points offers available to all PC Financial® Mastercard® customers are calculated based on the regular earnings rate of 10 PC Optimum™ points per dollar spent. This offer may be terminated or changed at any time.
⁵Minimum redemption is 10,000 PC Optimum™ points (worth $10 in free rewards) and in increments of 10,000 PC Optimum™ points thereafter, at participating stores. Some redemption restrictions apply. Visit pcoptimum.ca for details and full store list.