Go cardless: your guide to mobile pay and earning points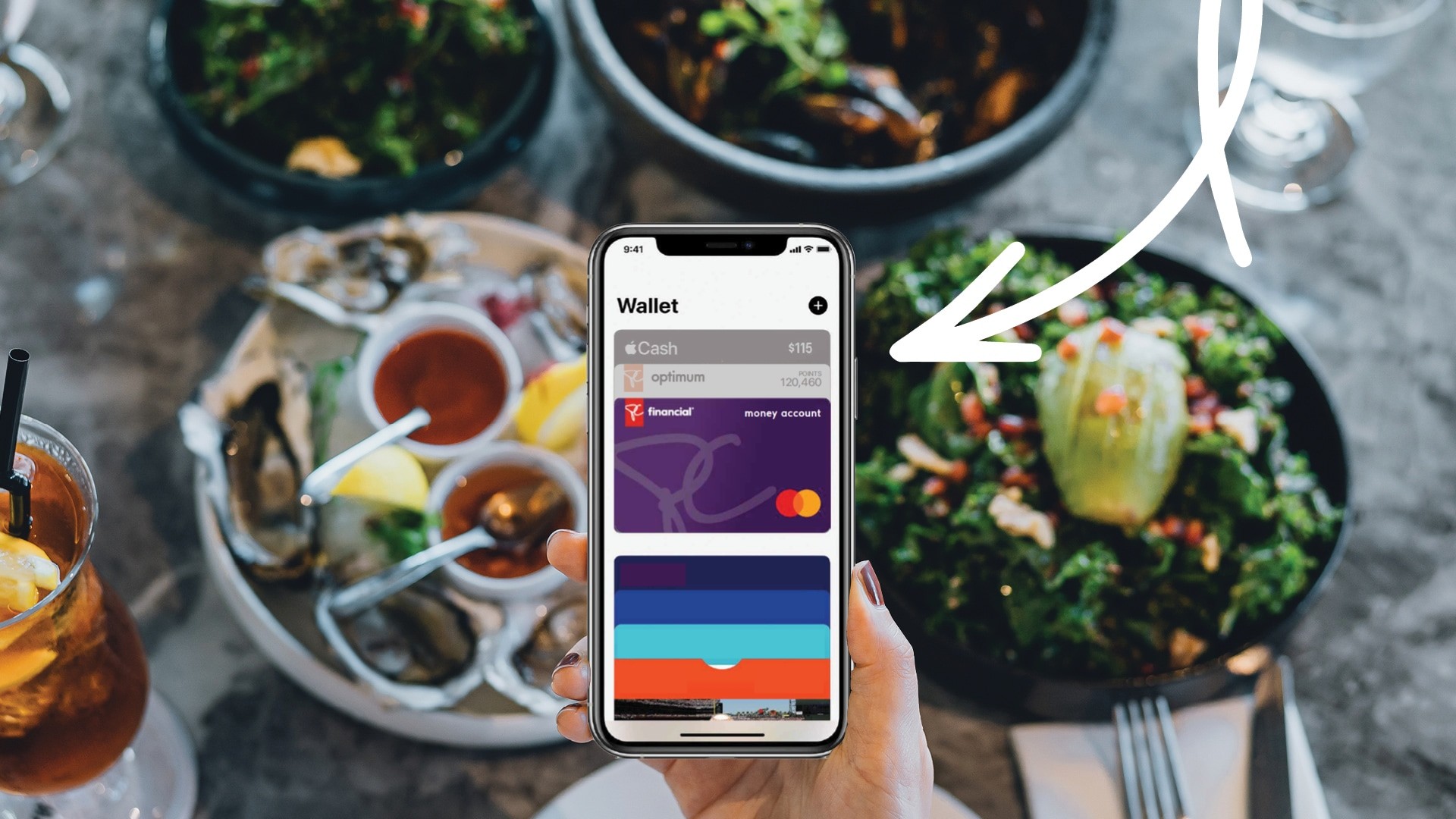 Keys, phone, wallet. It's a modern-day mantra we silently repeat to ourselves as we pat our pockets and bags on our way out the door. But what if it was just keys, phone…period. With mobile pay technology, you can be living that no wallet, no worries reality, right now. (But don't forget your ID and other essentials, of course.)
You may already know about the PC Financial® digital banking features that make your life easier—like being able to take your PC Optimum™ points-earning potential everywhere with the PC Financial® app. But did you know how much more streamlined banking and shopping can be when you add your PC Money™ Account and PC® Mastercard® to your mobile wallet? Sure, paying with your phone instead of a plastic card sounds a bit futuristic, but it's really simple and smart. Soon enough, you'll be reciting "Keys. Phone," as you breeze out the door. Here's the how and why to ditch your wallet.
Cardless is streamlined and speedy.
No more bulging wallet or scrambling through your cards at the checkout. When you add your PC Money™ Account and PC® Mastercard® to the Google Pay or Apple Wallet app, you can simply tap your phone to pay. It couldn't be faster. You can even make your checkout more hands-free if you have the facial-recognition feature enabled on your device.

Cardless is secure.
Cards get lost, wallets get stolen. But your virtual wallet is protected by layers of security. For example, when you pay with mobile pay in store, your account number isn't shared with merchants. Instead, your wallet app assigns each card its own virtual account number, so your real data is kept safe. What's more, your Google Pay and Apple Wallet apps become automatically disabled if you report your phone as lost or stolen, which helps ensure no one can access or use your info.
Cardless is easy.
It's simpler than you think to set up your PC Financial® cards on your mobile phone. Just follow these four easy steps:
1. Sign into your PC Financial® mobile app.
2. Go to 'Accounts' and select the card you want to add to your mobile wallet.
3. Choose 'Add to Apple Wallet' for iPhone or 'Add to Google Pay' for Android phones.
4. You will be redirected to the wallet application on your phone. Follow the prompts to add your card.

Cardless earns you points.
Whenever you pay with your PC® Mastercard® or your PC Money™ Account or from your digital wallet, you're earning PC Optimum™ points*—which is great. But you know what else is great? Being able to access your weekly PC Optimum™ offers right in your PC Financial® app (opens in a new window). Just open the 'Offers' tab in your PC Financial® app and your offers will automatically be loaded. Fewer clicks, more points! Because we're all about streamlining payment and points earning—digitally, of course.
Have you signed up for a PC Money™ Account (opens in a new window) and a PC® Mastercard® (opens in a new window) yet? Apply today and get the convenience of accelerating your points earning potential at your fingertips.
General information not about PC Financial® products is provided for your reference and interest only. The above content is intended only to provide a summary and general overview on matters of interest and is not a substitute for and should not be construed as the advice of an experienced professional. PC Financial® does not guarantee the currency, accuracy, applicability or completeness of this content.
*PC® Mastercard®: Earn a minimum of 10 PC Optimum™ points per dollar on all of your purchases charged to the credit card. Any bonus PC Optimum™ points offers available to all PC Financial® Mastercard®customers are calculated based on the regular earnings rate of 10 PC Optimum™ points per dollar spent. This offer may be terminated or changed at any time. PC Money™ Account: Earn 10 PC Optimum™ points (5 regular PC Optimum™ points plus a bonus of 5 PC Optimum™ points) per dollar of your purchases with your PC Money™ Account. President's Choice Bank reserves the right to cancel, change or extend regular and bonus points earning rates at any time. PC Optimum™ points will be deducted for any returns. Account must be in good standing at time of qualifying transaction and awarding of points.