Thrill Your Kids on the Cheap
Jun 7, 2018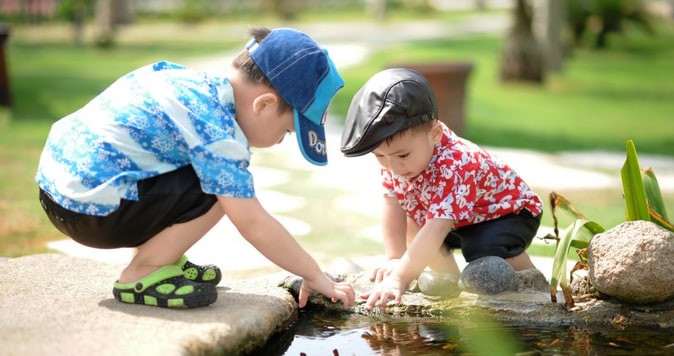 Busy parents often feel tapped out of ideas when it comes to keeping their kids entertained on weekends or other days off school. But occupying your offspring doesn't have to be a chore – and you certainly don't have to pay big bucks for hours of amusement. Here are five fun suggestions for hours of inexpensive activities for kids:
Cooking 
You do not have to be a chef to have fun with your kids in the kitchen. A quick online search provides a ton of recipes that are suitable for making with - and for - children. Tiny chefs love to stir, scoop and customize with toppings but you can start with something as simple as premade cookie dough to suit even the youngest children or shortest attention spans. Give yourself plenty of time, let them help choose the menu to help keep them interested, and remember to praise their hard work!
Fun forts 
Remember these? Gather up blankets and sheets, couch cushions and pillows, clothes pins, rubber bands and rope. Add some floaty scarves, indoor-safe Christmas lights and flashlights, sleeping bags, electronics, books, games and snacks. Help them choose a theme (A scientist's lab or spaceship? A secret lair or clubhouse? A lava tube?), then scout your house for a clever location. Make sure it has a stable support structure where you can safely anchor the fort, such as under a sturdy table or behind the sofa, then let them take creative control. Suitable for both indoors and in the backyard, this will spark their imagination – and maybe yours too – using items you already have on hand. (Hand-lettered "Keep Out" sign is optional.)
Geocaching 
Time for some fresh air! For an outdoor activity, try your hand at geocaching, a hunt for hidden objects or "caches" using GPS coordinates posted online. Simply pick a cache, check its location and start searching. Hidden by fellow players worldwide, caches come in various sizes and shapes in both rural and urban areas, and vary in difficulty to access. Many include a visitor log and invite you to "take a treasure/leave a treasure," adding an extra level of interest and reward for kids at the end of this hide-and-seek adventure.
Crafts 
Kids are natural artists, so think "create" not "consume." Hit up social media sites for oodles of crafting ideas and how-to instructions to suit any skill level, supply cupboard and messiness tolerance. Faced with a nice day and a messy project? Move the Picasso-inspired proceedings outdoors.
Share your passion 
You already have the know-how, materials and equipment, now share your hobby or favourite activities with your kids. Curated an amazing music library? Host a dance party. Collect stamps, trains, butterflies or old advertising? Get them started on their own collections. Enjoy knitting or scrapbooking? Pass on your knowledge and teach them how to make creations of their own. Start small, show them what fires you up, and you might pass on the flame.
Remember, you don't have to spend lots of money to ensure your kids have a great time. A dash of inspiration and a pinch of time well-spent with you will fuel their imaginations and leave everyone satisfied (including you). What will you do first?
General information not about PC Financial products is provided for your reference and interest only. The above content is intended only to provide a summary and general overview on matters of interest and is not a substitute for, and should not be construed as the advice of an experienced professional. The PC Financial® team does not guarantee the currency, accuracy, applicability or completeness of this content.