3 Ways to Make the Most of Your Weekly Grocery Shop
Oct 21, 2020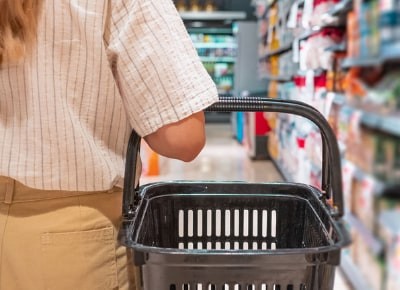 Attention all savvy shoppers: You already know and love the PC® brand as a trustworthy make with a wide selection of quality grocery products, but did you know that it also offers some easy ways to save money while loading up your cart every week? Here are three strategic ways to spend less on groceries—and maximize your PC Optimum™ points—without compromising on the everyday essentials and indulgent treats your family loves.
1. Download the PC Optimum app
Personalized offers tailored to you based on the products you buy the most? Yes, please. Each week, you'll receive a customized line up of extra points offers based on your shopping patterns: You'll see offers for hundreds or even thousands of additional PC Optimum points* that you can earn when you buy select PC® products, Joe Fresh® clothing or make specific purchases at Shoppers Drug Mart®. Simply load these offers on your app, and start racking up the points while stocking up on items you'd likely be purchasing anyway. 
2. Shop with a PC Financial® Mastercard® and the PC Money™ Account
Fun fact: Since its launch, millions of dollars' worth of free stuff has been awarded to PC Financial Mastercard® cardholders. That's because using this no-annual-fee card is a fast way to earn PC Optimum points: You earn points for every dollar you spend, anywhere, on anything you buy. Depending on the card, that translates to 10, 20 or even 30 PC Optimum points for every $1 of your purchases at stores that participate in the PC Optimum program, and 10 points everywhere else you shop1. You can see how quickly it adds up. If you prefer to use your own money when you shop, as opposed to a credit card, another way to earn points while you spend is with the PC Money Account (opens in a new window). It's a new account that works like a bank account and which also lets you earn 10 PC Optimum points for every $1 of your purchases—everywhere you shop, including online and in-store at retailers across Canada and around the world2. Did we mention it has no monthly fee?

3. Save time with PC Express™ pick-up services
You've heard that time is money—and the hours you'll save picking up your groceries instead of roaming the aisles may be worth every penny of the pick-up fee. Simply place your order online, roll up curbside at your set pick-up time, and pop the trunk for drop off. You'll never think of grocery shopping the same way again.
*Minimum redemption is 10,000 PC Optimum™ points (worth $10 in rewards) and in increments of 10,000 points thereafter at participating stores where President's Choice® products are sold. Some redemption restrictions apply; visit pcoptimum.ca (opens in a new window) for details, participating stores and full loyalty terms and conditions.
1Earn a minimum of 10 PC Optimum™ points per dollar on all of your purchases charged to the President's Choice Financial Mastercard® everywhere
you shop. When you use your President's Choice Financial Mastercard® at affiliated Loblaw banner stores, you will earn 10 points per dollar for President's Choice Financial Mastercard® cardholders; 20 points per dollar for President's Choice Financial World Mastercard® cardholders; and 30 points per dollar for President's Choice Financial World Elite Mastercard® cardholders. 
2Earn 5 regular PC Optimum™ points plus a bonus of 5 PC Optimum points per dollar of your purchases with your PC Money™ Account. President's Choice Bank reserves the right to cancel, change or extend regular and bonus points earning rates as of September 30, 2021. PC Optimum points will be deducted for any returns. Account must be in good standing at time of qualifying transaction and awarding of points.
General information not about PC Financial products is provided for your reference and interest only. The above content is intended only to provide a summary and general overview on matters of interest and is not a substitute for, and should not be construed as the advice of an experienced professional. The PC Financial® team does not guarantee the currency, accuracy, applicability or completeness of this content.