4 cool ways to redeem points this winter and a hot tip for Esso Extra™ members.
Feb 7, 2022
Here's some big news we're seriously pumped about! PC Optimum™ members can now redeem points* for fuel and car washes at Esso™ stations across the country! PC Financial® cardholders already earn points at Esso™ stations but filling up is even more rewarding now with these new points redemption options:
The Esso Extra program ended on January 17th, 2022. Esso Extra™ members are invited to convert their Esso Extra™ points to PC Optimum™ points between January 18, 2022 and April 30, 2022. Every Esso Extra™ point gets you 6 PC Optimum™ points that you can redeem for fuel and car wash rewards at Esso™ stations. Plus, you can redeem for so much more at stores that participate in the PC Optimum™ program.

Here are four fun ways you can redeem your PC Optimum™ points to make the most of winter:
1. Help fuel your winter road trip

Canada is beautiful under a fluffy layer of fresh snow. Whether you're taking a road trip adventure near or far, you can now redeem your PC Optimum™ points on fuel at Esso™ stations along the way. You can also redeem points to treat your vehicle to a free car wash on your return trip so it's fresh and clean when you arrive home.
2. Do date night right

Whether you're staying in for a romantic candle-lit dinner or having your friends over for a meal and a movie, redeem your points1 to make your night extra sweet. Cook your significant other their favourite meal or send your pals home with jars full of their favourite candy. Treat yourself too by redeeming your points towards the food and kitchen supplies you'll need for date night at participating grocery stores, including Loblaws, No Frills, Real Canadian Superstore and more.
3. Show yourself some love

When life gets busy, it can be easy to leave "me time" off the schedule, but showing your body and mind some love is important to overall wellness. Ready to step up your self-care routine? Bring the spa home by picking up your favourite wellness products from face masks to bubble bath and candles. Redeem your PC Optimum™ points at Shoppers Drug Mart® or Pharmaprix® towards the items you need to kick back, relax, and focus on you.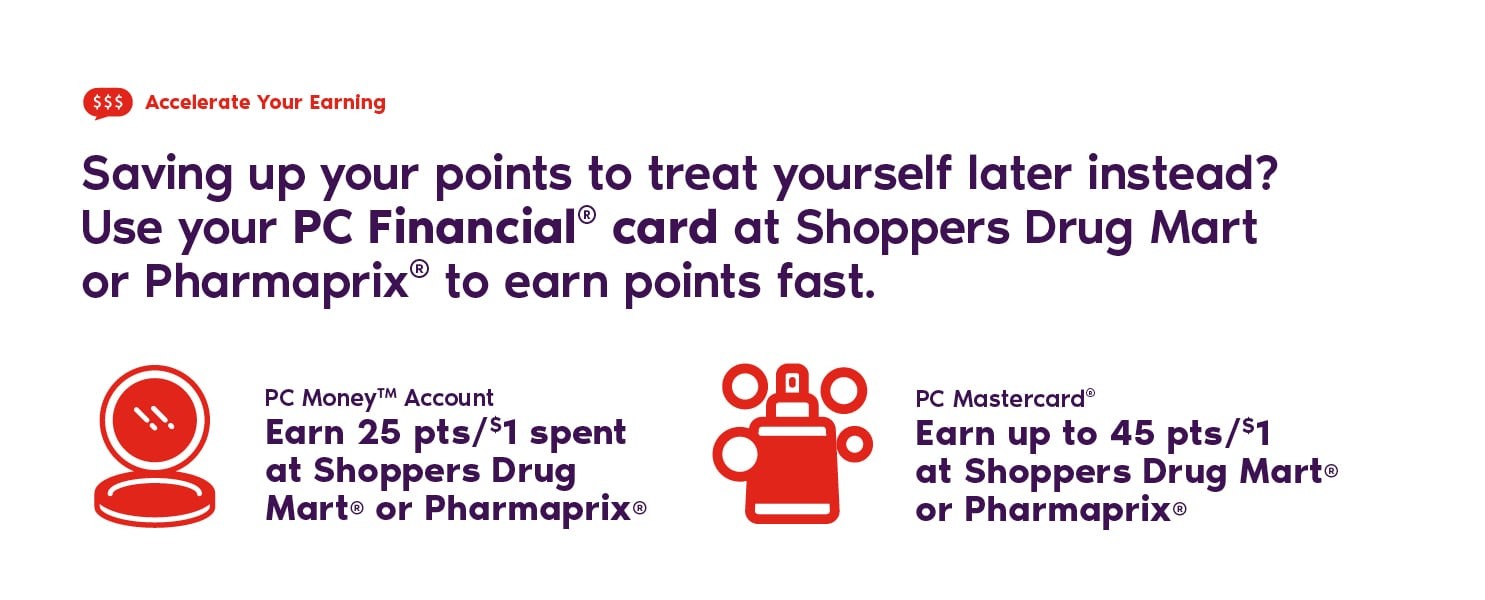 4. Bundle up in fresh new winter gear

It's the perfect time to get out and enjoy the snow with family and friends! Try a day of sledding, ice skating, or check out a local hiking trail. Whether you're searching for your new favourite scarf or tracking down the perfect coat to stay toasty on a chilly walk, Joe Fresh™ has all the winter staples you'll need for every exciting adventure you'll take. Redeem your points1 towards fresh winter gear to bundle up in style.
Remember, no matter where the winter takes you, your PC Financial® card will help you earn more PC Optimum™ points along the way. Save them up and redeem toward everyday essentials or big buys that you really want this season.

Get PC Money™ Account details.
Get PC® Mastercard® details.
General information not about PC Financial products is provided for your reference and interest only. The above content is intended only to provide a summary and general overview on matters of interest and is not a substitute for, and should not be construed as the advice of an experienced professional. The PC Financial® team does not guarantee the currency, accuracy, applicability or completeness of this content.
Points amount shown includes the 10 points per dollar for all purchases with the President's Choice Financial® Mastercard®. In addition, earn at least 10 PC Optimum™ points per purchased litre of gasoline or diesel fuel at Esso™ and Mobil™ stations in Canada when you pay with your President's Choice Financial ® Mastercard®. You will also earn at least 10 PC Optimum™ points per litre available to all PC Optimum™ loyalty members at Esso™ and Mobil™ stations in Canada. Earn an additional 10 points per litre of premium gasoline (Octane 89, 91, 93) at Esso™ and select Mobil™ Stations. You could earn even more points at Mobil™ stations located adjacent to a Loblaw banner grocery store. Exact earn rate is available at the station. Should fuel prices fall below $1/L, causing total points per litre awarded to fall below 30 points per litre, points will be topped up to ensure a minimum of 30 points per litre are awarded in all transactions paid with a PC Financial® Mastercard® at Esso™ and Mobil™ locations. For full details including how points are awarded to your PC Optimum™ account and rounding rules, visit pcfinancial.ca/en/legal-stuff/pc-optimum-mastercard/.
*10 cents off per litre fuel redemption option valid at Esso™ stations across Canada. Car wash redemption option available at participating Esso™ stations with car wash facilities where advertised. Only redeemable at points level specified in a single transaction. 10 cents off per litre valid on actual number of litres fueled, to a maximum of 40 litres per redemption transaction, or a single car wash depending on the redemption option selected. Limit of one redemption per PC Optimum™ account per calendar day at participating Esso™ stations (in accordance with President's Choice Services Inc.'s official records). A valid PC Optimum™ card, PC Money™ Account card or President's Choice Financial® Mastercard® must be swiped at the pump or a valid PC Optimum™ card, PC Optimum™ app, PC Money™ Account card or PC Financial® Mastercard® must be scanned or swiped in the station as part of the payment transaction in order for PC Optimum™ points to be redeemed on fuel or car wash purchases, as applicable. Car wash options available for redemption are subject to availability and do not include coin operated car washes. Car wash codes can only be used at the station where the reward was issued unless otherwise specified in writing at the time of redemption and may be subject to expiration timelines. Redemption not available using manual card number entry, phone number entry, or the Speedpass+ app. For fuel redemption, taxes payable on full purchase price before application of reward. Points are not redeemable for cash or credit. We are not obligated to award or redeem points based on errors or misprints. PC Optimum™ redemption is not available at Mobil™ stations. PC Optimum™, PC®, President's Choice®, PC Financial®, President's Choice Financial®, PC Money™ Account and the PC® Logo are trademarks of Loblaws Inc., used under license. Mastercard® is a trademark of Mastercard International Incorporated, used under license. PC Financial® Mastercard® and PC Money™ Account are provided by President's Choice Bank. Esso is a trademark of Imperial Oil Limited. Imperial Oil, licensee. Speedpass+ is a trademark of Exxon Mobil Corporation or one of its subsidiaries. Imperial Oil, licensee.
1 Minimum redemption is 10,000 PC Optimum points (worth $10 in free rewards) and in increments of 10,000 PC Optimum points thereafter, at participating stores. Some redemption restrictions apply. Visit pcoptimum.ca for details and full store list.