4 tips to earn rewards fast this road trip season
Discover how you can earn PC Optimum™ points on fuel and groceries at participating locations for your next Canadian road trip.
Jul 22, 2022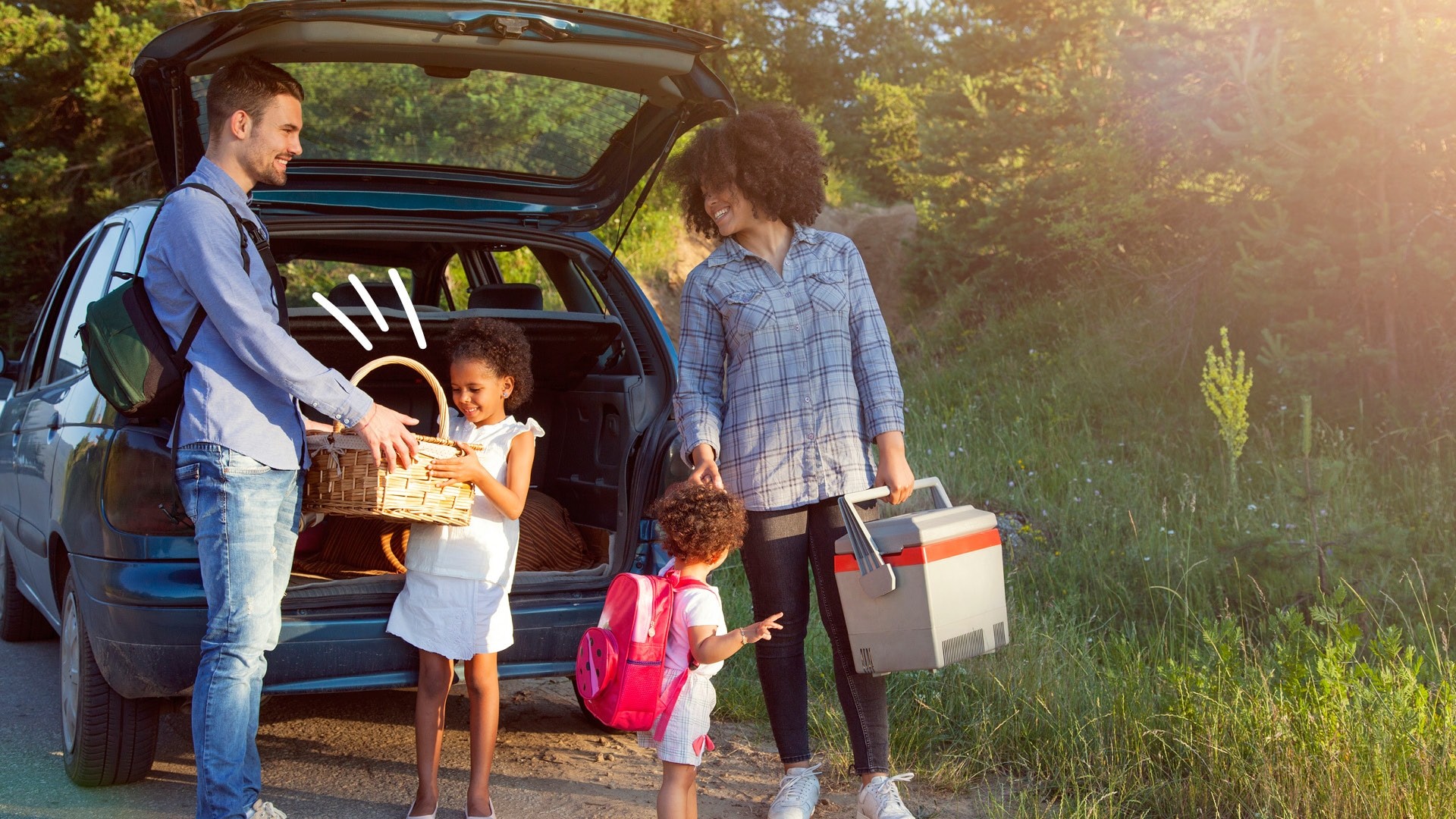 Ready to get back in the driver's seat and hit the road for a summer of epic travel and experiences? Road trips can be more affordable than travelling by air and getting to the destination is half the fun and certainly more memorable. While plane trips can be a blur, you'll never forget that time you spotted a bear on the side of a road or that campsite with the splash pad.

Looking for ways to earn rewards toward gas and groceries to make the most of your road trip plans this summer? Here are 4 key tips to make your summer road trip rewarding with your PC® Mastercard®. Not a PC® Mastercard® holder yet? Sign up today.
Tip 1: Plan in advance.
Get everyone involved in planning the trip by pulling up a map or a few guidebooks and soliciting suggestions. Ask your family what they want to see along the way. How do they think you can get from A to B within a set amount of time?
Why? The more buy-in you have up front the more pleasant it'll be. When you let the kids know the plan in advance, they'll feel like they have some control of what's happening during the day. It's when they feel like they have no control that they tend to act up. Exploring and travelling can be costly but when you plan ahead and pay with your PC® Mastercard® it's easier than ever to earn PC Optimum™ points on every dollar you spend, everywhere you shop.
Pick up sunscreen, bug spray and a good supply of snacks for the road in advance at Shoppers Drug Mart® or Pharmaprix®, where you can earn up to 45 PC Optimum™ points1 for every dollar spent on your PC® Mastercard®. Additionally, you can earn up to 30 PC Optimum™ points2 for every dollar you spend at grocery stores, like No Frills®, Real Canadian Superstore®, Loblaws® and Maxi®.
When you reach 10,000 points, you can redeem them for $10 in rewards3 toward your purchases at participating stores. Redeem the points you've earned towards free stuff, like your must-have summer road trip essentials.
Tip 2: Earn points at the pump.
To help earn4 the most points possible with every fill-up, map out Esso™ and Mobil™ stations in Canada along your route where PC® Mastercard® cardholders earn at least 30 points per litre when fueling up (that's like 3 cents per litre back in points). Plus, you can redeem 4,000 PC Optimum™ points5 for 10 cents off per litre (up to 40L in a single fill) at Esso™ stations in Canada.
Reducing your speed is one of the easiest safety hacks you can use and you may be better able to enjoy the scenery while going slower, to boot! By cutting out speeding and driving the speed limit, you'll reduce unnecessary gas consumption6. Road trips are all about freedom, flexibility and experiential travel. There's no need to arrive at your destination at warp speed. Pulling off at quirky roadside attractions are what memories are made of!
You can also maximize fuel economy by eliminating roof carriers that increase aerodynamic drag7. If you're feeling hot, try opening your windows so you're not as reliant on your AC.
Tip 3: Make pit stops count.
Road trips offer your family more flexibility by enabling spur of the moment decisions to better suit your passengers. You'll love the freedom of going with the flow, but if you want to ensure everyone is at their best in the vehicle (and find another way to save money) consider not stopping to eat at restaurants.
Pitstops are a time to refresh and stretch your legs. So why sit down again in a restaurant? Use your stops strategically to hit up a Loblaws®, No Frills®, Real Canadian Superstore® or Maxi® and redeem your PC Optimum™ points towards snacks you can eat during your rest stop. If you're not ready to redeem your points, don't forget that you can earn up to 30 PC Optimum™ points2 for every dollar spent at these participating stores.
Another ideal pit stop idea is a green space for a quick game of tag. Map out your grocery, gas, and green space stops in advance of setting out.
Wherever you choose to stop, try to ensure restrooms are available. This may help avoid an unplanned stop later.
Tip 4: Avoid the dreaded "are we there yet?" chorus.
Want to avoid a backseat mutiny without spending too much money or energy? Here are a few ideas to set caregivers up for success:
Make a surprise bag with treats from Real Canadian Superstore®. Some items you can easily pick up include: a deck of cards, colouring pages, magazines, and travel-sized versions of games. If you see wipe-off activity cards, be sure to buy an extra dry erase marker so two can play at once.

Sign out audio books from your local library or download a few podcasts and strategically plot when you'll listen to these instead of the radio. If you don't want to argue about listening to your child's favourite kiddie band for hours straight, assign or agree to rotate DJ duty prior to hitting the road.


If you're looking for a stress-free summer vacation without breaking the bank, road tripping can be a great option. Not only does it allow for more control the rewards also really do add up.
Need more inspiration for your next road trip? Check out these Canadian destinations and earn PC Optimum™ points on every dollar you spend while travelling when you pay with your no annual fee PC® Mastercard®.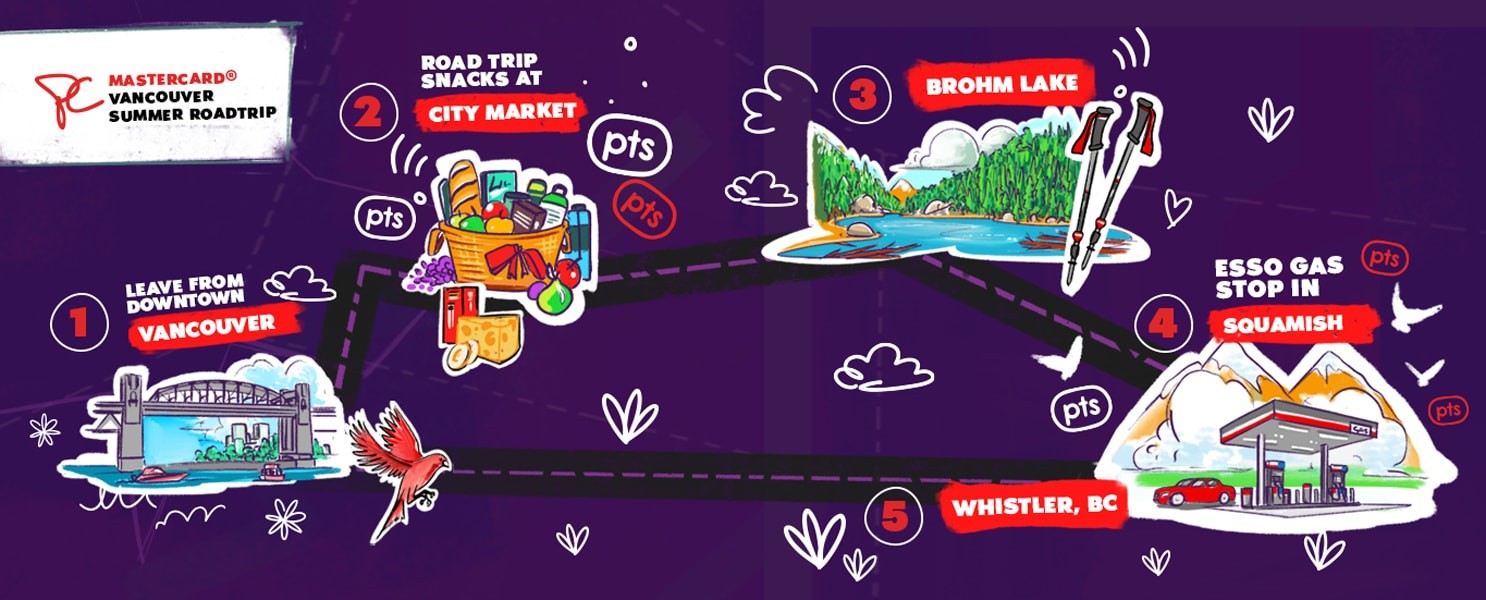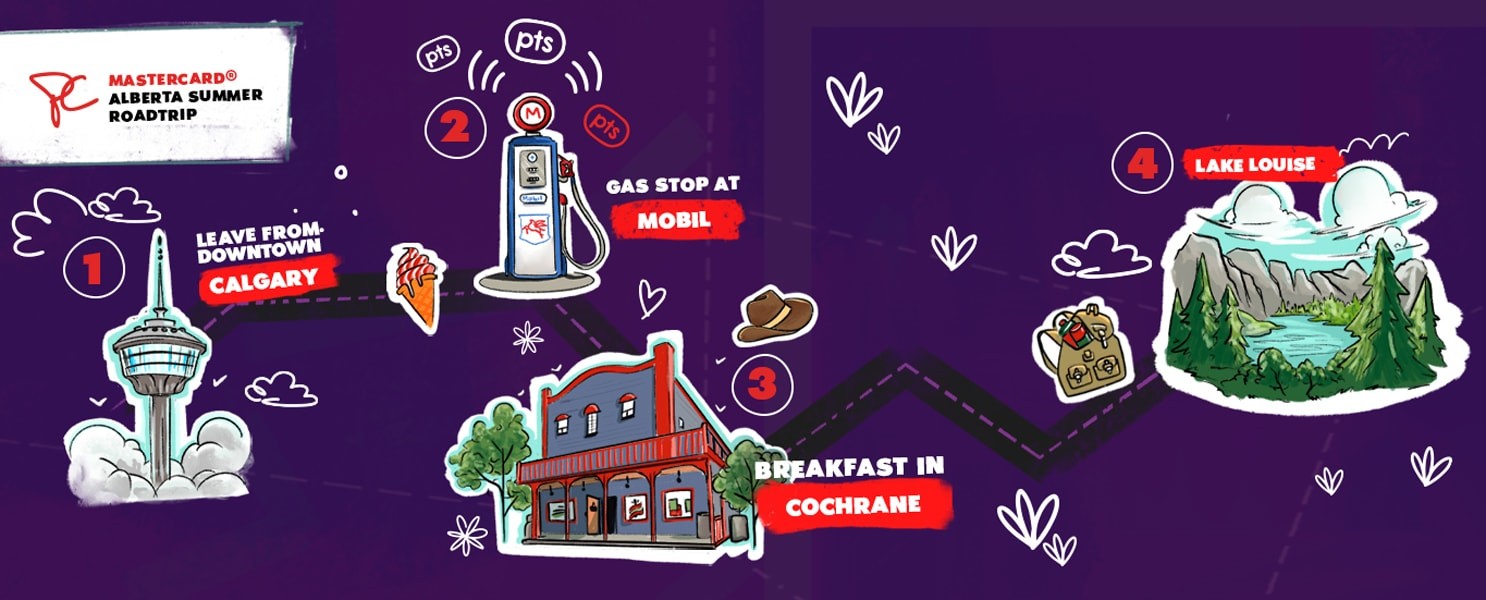 Sign up for a PC® Mastercard® today to maximize your points earning potential this summer.
---
1All PC optimum™ members earn 15 points per dollar on eligible purchases at Shoppers Drug Mart® and Pharmaprix®. When you use your PC Financial Mastercard® you will earn additional points per dollar: 10 points per dollar for PC Financial Mastercard® cardholders; 20 points per dollar for PC Financial World Mastercard® cardholders; and 30 points per dollar for PC Financial World Elite Mastercard® cardholders.
2Earn a minimum of 10 PC Optimum™ points per dollar on all of your purchases charged to the credit card. Any bonus PC Optimum™ points offers available to all PC Financial® Mastercard® customers are calculated based on the regular earnings rate of 10 PC Optimum™ points per dollar spent. This offer may be terminated or changed at any time.
3Minimum redemption is 10,000 PC Optimum™ points (worth $10 in rewards) and in increments of 10,000 points thereafter at participating stores where President's Choice® products are sold. Some redemption restrictions apply; visit pcoptimum.ca for details, participating stores and full loyalty terms and conditions. 
4Points amount shown includes the 10 points per dollar for all purchases with the PC Mastercard®. In addition, earn at least 10 PC Optimum™ points per purchased litre of gasoline or diesel fuel at Esso™ and Mobil™ stations in Canada when you pay with your PC Financial® Mastercard®. You will also earn at least 10 PC Optimum™ points per litre available to all PC Optimum™ loyalty members at Esso™ and Mobil™ stations in Canada. Earn an additional 10 points per litre of premium gasoline (Octane 89, 91, 93) at Esso™ and select Mobil™ Stations. You could earn even more points at Mobil™ stations located adjacent to a Loblaw banner grocery store. Exact earn rate is available at the station. Should fuel prices fall below $1/L, causing total points per litre awarded to fall below 30 points per litre, points will be topped up to ensure a minimum of 30 points per litre are awarded in all transactions paid with a PC Financial® Mastercard® at Esso™ and Mobil™ locations. For full details including how points are awarded to your PC Optimum™ account and rounding rules, visit pcfinancial.ca/en/legal-stuff/pc-optimum-mastercard/.
5Limited to one redemption per day at Esso™ stations. 10 cents off per litre fuel redemption option valid at Esso™ stations across Canada. Car wash redemption option available at participating Esso™ stations with car wash facilities where advertised. Only redeemable at points level specified in a single transaction. 10 cents off per litre valid on actual number of litres fueled, to a maximum of 40 litres per redemption transaction, or a single car wash depending on the redemption option selected. Limit of one redemption per PC Optimum™ account per calendar day at participating Esso™ stations (in accordance with President's Choice Services Inc.'s official records). A valid PC Optimum™ card, PC Money™ Account card or President's Choice Financial® Mastercard® must be swiped at the pump or a valid PC Optimum™ card, PC Optimum™ app, PC Money™ Account card or PC Financial ® Mastercard® must be scanned or swiped in the station as part of the payment transaction in order for PC Optimum™ points to be redeemed on fuel or car wash purchases, as applicable. Car wash options available for redemption are subject to availability and do not include coin operated car washes. Car wash codes can only be used at the station where the reward was issued unless otherwise specified in writing at the time of redemption and may be subject to expiration timelines. Redemption not available using manual card number entry, phone number entry, or the Speedpass+ app. For fuel redemption, taxes payable on full purchase price before application of reward. Points are not redeemable for cash or credit. We are not obligated to award or redeem points based on errors or misprints. PC Optimum™ redemption is not available at Mobil™ stations.
6 Source: Consumer Reports
7Source: Consumer Reports
General information not about PC Financial products is provided for your reference and interest only. The above content is intended only to provide a summary and general overview on matters of interest and is not a substitute for, and should not be construed as the advice of an experienced professional. The PC Financial® team does not guarantee the currency, accuracy, applicability or completeness of this content.