7 affordable date-night outfits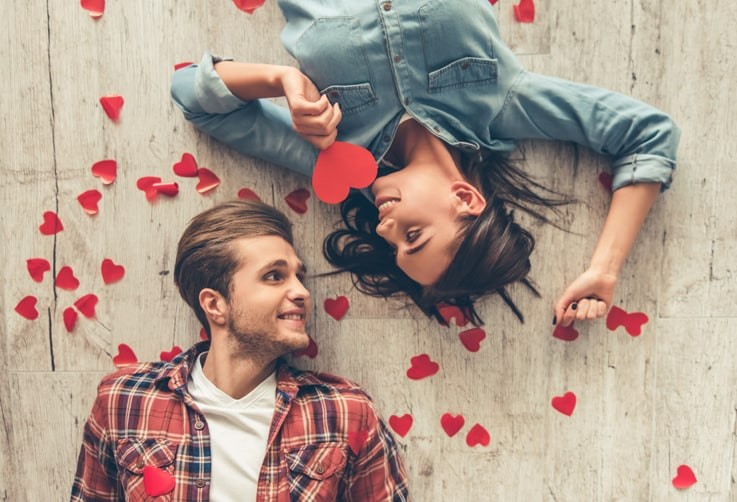 Craving a little one-on-one time with your partner? It's almost Valentine's Day, which means it's time to start thinking about the perfect ensemble for your date activity of choice. These easy Valentine's Day outfit ideas pair thrifty new items—think a cute dress or checkered shirt— with pieces that you probably have in your closet. Wear one of these affordable date-night outfits and wow your loved one, whether it's your first Valentine's Day as a couple or your 10th. 
Date 1: Ice skating under the stars
The outfits: Few dates are as romantic as gliding around a frozen rink, hand in hand. But what to wear when you want to stay warm and look cute? Choose colourful pieces and slim trousers or jeans to balance the proportions of a puffy parka. To round out the look, layer a cozy turtleneck underneath the parka for extra warmth and top it all off with a knit beanie (with pom-pom, please!) and matching mittens. 
Date 2: A cooking class for two
The outfits: It's time to get messy! Since ingredients will be flying, keep your look casual and avoid white pieces that will easily stain. You'll likely both wear aprons throughout class, so take that into consideration when picking an outfit. Women: Choose a blouse with interest around the neckline and shoulders. Pull back your hair so it's off your face and feel free to incorporate hair accessories or drop earrings. Men: A checkered shirt with rolled-up sleeves suits the venue. 
Date 3: Jazz and cocktails
The outfits: If you plan to spend your evening in a dimly-lit venue, with a beverage of choice in hand, choose an outfit that will stand out. Women: For the best effect, date-night dresses might feature a special fabric (velvet, sequins, silk or lace). Add sparkly earrings and a pair of colourful heels to complete the look. Men: Stick with a light-coloured button-down Oxford shirt and dark slacks. Your partner won't be able to look away!
Date 4: A basketball or hockey game
The outfits: You have a few different outfit options when it comes to cheering on your favourite sports team. Plan to wear a jersey? Men and women alike can streamline the rest of the look with slim trousers and ankle boots. Men: If you're skipping the merch, keep things simple with a hoodie over a fresh white tee. Women: Consider pairing your ankle boots with a sweater dress and cropped denim, suede or corduroy jacket. Add touches like bangles, rings or layered necklaces. 
Date 5: A couples' workout
The outfits: Even if you're a loose-tee-and-sweats kinda couple, a Valentine's Day workout is the time to take the outfits up a notch. Women: Aim for leggings with a fun print and a moisture-wicking tank. If you plan to grab coffee or smoothies after class, pull your look together with a fitted hoodie or active jacket. Men: Opt for joggers with tapered ankles and a moisture-wicking shirt.
Date 6: Dinner and dancing
The outfits: Ready to kick up your heels? You need an outfit that you can twirl in. Women: Skip pencil skirts in favour of wide-legged trousers or an A-line skirt with block heels. A silky camisole is the perfect finisher. Men: Try a fitted V-neck sweater and stretchy chinos.
Date 7: A cuddle-friendly movie marathon 
The outfits: For any date that involves cuddling on the couch, comfort is a priority. But instead of wearing ratty old pajamas, try a fresh PJ set. Keep your feet warm with slippers or thick wool socks. 
Find everything you need for a range of affordable date-night outfits at Joe Fresh®. You can even earn PC Optimum points on every purchase, which is rewards right back in your PC Optimum account. 
General information not about PC Financial products is provided for your reference and interest only. The above content is intended only to provide a summary and general overview on matters of interest and is not a substitute for, and should not be construed as the advice of an experienced professional. The PC Financial® team does not guarantee the currency, accuracy, applicability or completeness of this content.