7 Cheap and Fun Kids Snacks for Parties
Apr 11, 2019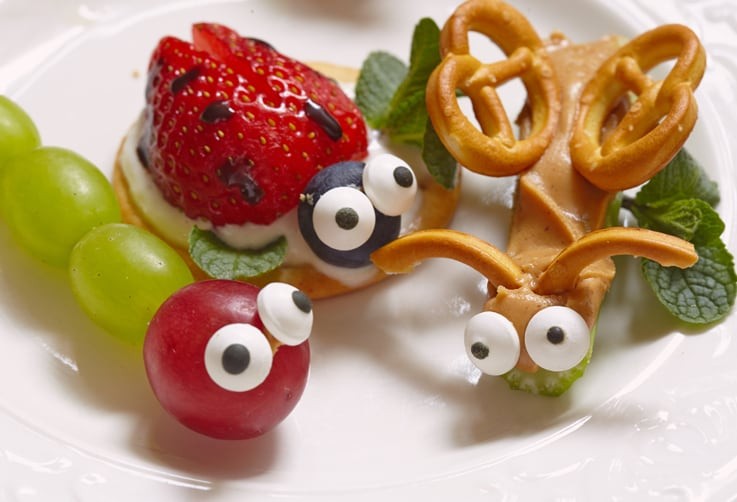 Go beyond chips and dip with these cheap snacks for parties that are creative, interactive and easy to make at home. Each one requires only a handful of ingredients and is fun to eat or even assemble as a group. Bring a couple of these snacks to the table, and your children and their friends will think you're host of the year.
Celery Caterpillars
Are your little ones obsessed with creepy crawlies? Indulge them with stalks of celery spread with nut butter or cream cheese spread. Set them up to decorate each one with grapes, blueberries, tomatoes or other pieces of fruit and veggies. Finish off each caterpillar with googly candy eyes affixed to a piece of fruit or veggie with spread.
Fruit Sushi Rolls
Turn your guests into miniature chefs and get them to assemble their own faux sushi rolls. All you need is some thickly sliced banana, nut butter (or a spread of similar texture) and a couple toppings such as chocolate chips or chopped nuts. Have the children spread peanut butter around the edges of each banana slice with a spoon or plastic knife, then roll each piece in the toppings of their choice for a healthy dessert.
Marshmallow Popcorn Balls
Take just about any of these cheap snacks for kids and put it on a stick and you add an extra element of fun. Add crunchy popcorn into the mix and you're golden. To start, melt a few tablespoons of butter in a saucepan and then add one bag of small marshmallows, a dash of vanilla extract and a sprinkle of salt. Stir until smooth, then pour the mixture over popcorn and toss with a spoon to coat each kernel. Fashion the balls with your hands, stick candies or chocolates into each one and insert a stick. Leave on waxed paper to set.
Grilled Cheese Rolls
It's grilled cheese, but better! Simply cut off the crusts, then add cheese to each slice of bread, roll the single slice up and grill it in a pan with butter the way you would a regular grilled cheese sandwich. Include ketchup for dipping, and this tasty bite-sized snack will be a hit. It's a great way to thrill your kids on the cheap (opens in a new window).
Apple Donuts
If you're looking for budget-friendly ways to invest in your health (opens in a new window) and the health of your kids, apple donuts are a nutritious alternative to the real deal. You'll need apples, milk- and white-chocolate chips, nut butter and sprinkles. Cut the apples into thick slices and remove the cores. Slow down browning by brushing the slices with lemon juice. Next, melt the chocolate chips and nut butter in bowls in the microwave, then drizzle the slices. Finish off with sprinkles.
Animal Face Toast
Cheap snacks for large groups are just one way to save on your kids' birthday parties (opens in a new window). To keep things super simple, toast some bread, spread a circular face onto each slice with nut butter or cream cheese and then let the kids create their own animal faces with pieces of fruit and pretzel sticks.
S'mores Dip
Give the children a taste of the campfire classic with a marshmallow-and-chocolate dip melted in a skillet or other oven-safe dish. Heat the dish in the oven, then coat the bottom with melted butter and pour an even layer of chocolate chips on top. Cover with large marshmallows cut in half and bake until they've browned. Scoop the dip with graham crackers.
General information not about PC Financial products is provided for your reference and interest only. The above content is intended only to provide a summary and general overview on matters of interest and is not a substitute for, and should not be construed as the advice of an experienced professional. The PC Financial® team does not guarantee the currency, accuracy, applicability or completeness of this content.