Creating a Crowd-friendly Taco Bar
Mar 21, 2019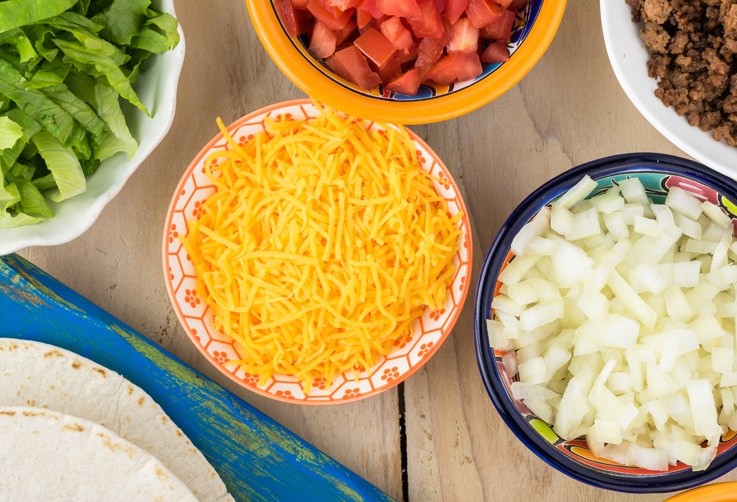 Hosting a gathering is already stressful enough, but catering to the crowd doesn't have to be. Offering your guests a variety of options guarantees that even the pickiest palate will be satisfied. Instead of preparing a bevy of dishes, however, consider setting up a build-your-own taco bar.
Whether your guests fill them with carnitas (braised, shredded pork), fish, barbacoa (slow cooked meat), eggs or grilled vegetables, serving tacos isn't simply interactive—it also allows everyone to make them to their taste and is affordable. Since they're able to customize their meal, guests can choose to go meatless, avoid dairy-based toppings, or assemble their tacos using corn tortillas if they're gluten-intolerant or lettuce leaves if they're avoiding carbohydrates.
Make entertaining on a budget easy with store-bought condiments and fixings. To reduce stress on the day of the gathering, wash and prepare the produce and grate cheeses in advance, storing them in ready-to-serve containers or plastic wrap–sealed bowls in the refrigerator. Or make it a potluck by assigning items for guests to bring. If you purchase tortilla chips or make your own chips by baking tortillas, you've now added the option of making nachos. The only thing missing is a margarita bar, but that's another post.
Ingredients, separated:
Hard taco shells and soft tortillas: offer an assortment that might include corn, flour and whole wheat
Butter lettuce leaves 
Meat: offer an assortment that might include store-bought rotisserie chicken, seasoned ground beef, grilled steak, carnitas, pulled pork or roast pork belly, grilled shrimp and firm fish like mahi mahi and tuna (delicate species like salmon or catfish also work if handled carefully)
Beans: Cooked pinto or black beans, or refried beans
Rice: offer Mexican or plain rice
Roasted, grilled or sautéed vegetables: choose a mix of chopped zucchini, mushrooms, bell peppers, onions and halved avocados
Thinly-sliced iceberg lettuce and/or green and red cabbage
Chopped tomatoes
Chopped white onions or pickled red onions
Jalapenos, mild pickled and fresh sliced
Chopped cilantro and green onions
Guacamole
Salsa: offer a range of everything from mild to hot salsa, salsa verde, pico de gallo, and corn, pineapple or mango salsas
Sour cream
Shredded cheese: offer an assortment that might include cheddar, Monterey Jack, pre-packaged cheese blends, and crumbled queso fresco (a semisoft fresh Mexican cheese) and cotija (a hard, crumbly Mexican cheese)
Grilled pineapple: for fish or pork tacos
Lime wedges
Table set-up, in order of taco assembly:
On one end of a long table or counter, place all the flatware, napkins and plates.
Set chips, butter lettuce leaves and warmed shells and tortillas next to the party tableware. For warm tortillas, wrap stacked tortillas with foil and heat in a 200°F oven for up to 30 minutes, before removing them from the foil and wrapping them in a kitchen towel. Shells can be warmed in a 350°F oven for 5 minutes or until crisp then transferred to a plate.
Arrange bowls or warming pans filled with rice or beans, crockpots holding stew-like items, and platters with meat, fish and/or poultry in the centre of the table.
At the remaining end of the table, lay out bowls of toppings, including chopped vegetables, shredded or crumbled cheeses, condiments and garnishes.
Enjoy!
General information not about PC Financial products is provided for your reference and interest only. The above content is intended only to provide a summary and general overview on matters of interest and is not a substitute for, and should not be construed as the advice of an experienced professional. The PC Financial® team does not guarantee the currency, accuracy, applicability or completeness of this content.