Holiday Cheer: Hosting a White Elephant Gift Exchange
Dec 2, 2019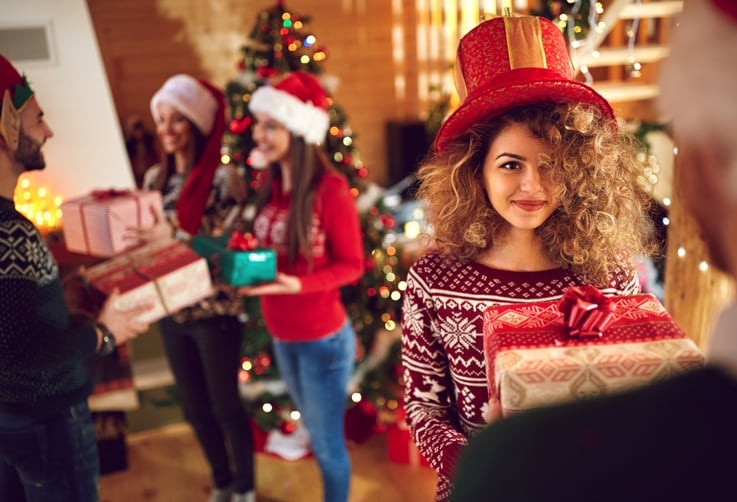 Few holiday traditions are more fun than a classic holiday gift exchange. People are probably most familiar with group activities such as ones where participants randomly draw the names of family or friends and then buy them a present, while keeping their identity hidden until after the gift is opened.
More entertaining still is the White Elephant gift game. While the premise is similar to a gift exchange, this game includes a twist where participants are allowed to swap their gifts for other people's presents. Earning its name from a term used to describe an item the owner doesn't want, White Elephant requires guests to bring unmarked wrapped gifts that are placed in a designated area. Each participant is either assigned a number randomly when they arrive or numbers are drawn from a hat once everyone is there. The numbers indicate the order in which your guests open presents.
The twist, however, happens after the first player picks their gift, opens it and reveals it to the crowd. The person with the next highest number is given the choice of either swapping it with the already opened gift or picking a new, still wrapped one. Participants who have had their gift swapped can choose a new wrapped gift—or swap it for any other unwrapped one. The process continues until every guest has had a turn and the last wrapped gift is opened. 
To prevent the game from going on forever, you can set rules, such as not allowing a gift to be swapped more than two times, no swapping a gift back or by limiting how many times a gift can be swapped with a player. This ensures that the remainder of wrapped gifts are eventually opened and that everyone gets a turn.
A fun variation that can make the event more challenging for friends or family is to put a price restriction on the presents. For example, the budget might be $20, tax included. Not only is this considerate of guests who are more budget conscious, it avoids putting people in an uncomfortable position and ensures the gifts are mostly equal. It also promotes creativity.  
You should also consider setting a theme for the event. Whether gifts have to be red or start with the letter 's,' for example, or not allowing simple solutions—such as gift certificates, lotto tickets or similar vouchers—will lead to more thoughtful gifts. And if you're using a credit card, such as the no-annual-fee President's Choice Financial Mastercard® (opens in a new window) to make your purchase, you are also earning  PC Optimum points with every dollar spent. 
Still not silly enough? Why not make the White Elephant theme be extremely tacky and useless presents? Entertaining and funny, this promotes the playful nature of the game and eliminates the stress of having to find the perfect gift. Besides, one person's trash may be another's treasure. 
Try to discourage gifts such as chocolates or other standard crowd-pleasers. Encourage elaborate gift wrapping that includes containers of misleading sizes. You can also permit the use of excessive masking tape or duct tape so everyone can watch recipients struggle to open their gifts. Also consider allowing the first player the option of exchanging gifts with another person at the end of the game because they weren't given the opportunity to swap anything. 
Make sure to have plenty of food and refreshments on hand for the party. Consider turning it into a potluck (opens in a new window) by asking guests to bring treats and refreshments such as soda, water or coffee to take some of the pressure and expense off the host. If you pick up ingredients and supplies in advance from a local Loblaw banner store, you'll have the opportunity to earn PC Optimum points at the same time. 
General information not about PC Financial products is provided for your reference and interest only. The above content is intended only to provide a summary and general overview on matters of interest and is not a substitute for, and should not be construed as the advice of an experienced professional. The PC Financial® team does not guarantee the currency, accuracy, applicability or completeness of this content.