Hosting an Afternoon Tea on a Budget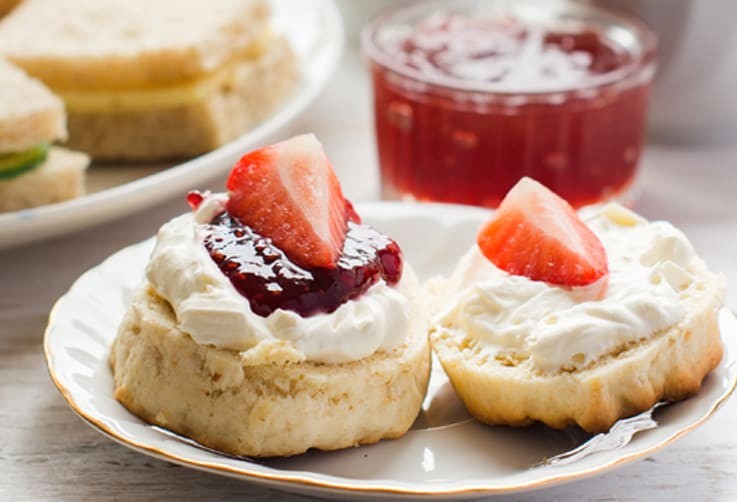 Whether for Mother's Day, a bridal shower or an elegant gathering, the ritual of afternoon tea hasn't changed much since Anna, Duchess of Bedford, made it a popular practice in the early 19th century. A popular activity, traditional afternoon tea service features a delightful spread of dainty bites and pretty petit fours on platters and tiers that enthusiasts wash down with teacups brimming with custom tea blends or flutes of bubbly. 
Throwing a tea party at home isn't too difficult or pricey—and with the proper preparation it can look and feel just as impressive as going out. Here's a checklist of items you'll need to host an afternoon tea that'll help create just as lovely an experience. Fascinators are options. 
Things you'll need
Dishware, including a mix of vintage or modern tea cups and saucers and the appropriate cutlery 
Teas served with sugar and milk 
Sandwiches
Scones
Pastries, cakes, squares and cookies (can be store bought)
Condiments, including clotted or Devonshire cream, and jams
For a more substantial spread at early evening, opt to host high tea, which typically includes hot or savoury items like sausage rolls, Welsh rarebit, charcuterie and heavier dishes like casseroles, meats and vegetables. 
For the teaProvide a variety of flavours, including black teas (Earl Grey, English breakfast or Darjeeling), green teas (such as Jasmine) and herbal options (mint). Loose-leaf is recommended. Use fresh water to brew your tea, taking note of the steep time and water temperature used as over-brewing will make the tea bitter. In general, black teas take longer (between 3-5 minutes at 100°C) than green teas (about 3 minutes at 75°C), while herbal, rooibos or tisanes take the longest (from 4 to 10 minutes). Estimate about two to three cups per person.
For the sandwiches
Make small finger sandwiches using different types of bread (white, brown, brioche, rye) and fillings. Simply remove the crusts and layer your thinly cut bread with a choice of fillings before slicing them into rectangles, quartered into triangles, pinwheel-style on slightly flattened slices of bread and then cutting them as rolls, or stuffed inside tiny buns or savoury choux pastry. Don't forget to season with salt and pepper. Plan for about four sandwiches per person. 
For the fillings
Butter or chive cream cheese with thinly sliced cucumber (option: top with chilled cooked prawn and a dollop of mayonnaise mixed with lemon zest)

Smoked salmon and cream cheese 

Soft goat cheese with roasted red pepper strips and toasted walnut

Thinly shaved cooked ham with mustard

Egg or crab salad topped with crème fraiche and a sprinkle of chopped chives

Chicken salad, Waldorf chicken salad (with apples, celery and mayonnaise) or Coronation chicken (with mango chutney, curry powder, mayonnaise and dried apricots) 

Roast beef with caramelized onions
For the scones
Crusty on the outside and moist and tender on the inside, scones are synonymous with afternoon tea. Served small and warm with jam and clotted cream—a thick cream that's like buttery rich thick whipped cream—scones can be plain or flavoured with dried fruits such as currants. Plan to have two scones per guest.
For the pastries 
Sweets can range from gorgeous mini-layer cakes or pretty marzipan wrapped sponge cakes; mini tarts filled with custard, curd or topped with fruit; squares; confections such as macarons; buttery financiers or cookies; or even modern options such as airy mini cupcakes that are filled with fluffy raspberry cream.  
While it's not necessary to make your own, the assortment of petit fours could be assembled from a collection of bite-sized baked goods or trimmed into one-bite morsels from larger items like brownies, bars or coffee cakes. Allow for two to three pieces of cake, pastry or confection per person. 
Additional Tips
Prepare as much as possible in advance 
Homemade or store-bought mini desserts can survive in a well-sealed container for at least a day (freeze for longer). The only exception is goodies that are better served fresh. Scones—and cookie dough that's been pre-portioned into 1-inch balls—can be frozen on a baking sheet and stored in a sealed container until they are ready to be baked. 
Some sandwich fillings (egg or chicken salad, pre-sliced roast beef or cooked roast chicken) can be made a day in advance and kept tightly wrapped and refrigerated until use. Thinly slice your vegetables or cheese the morning of the tea and set aside. Then, assemble sandwiches up to an hour before guests arrive, choosing between single bread-based open-face sandwiches or traditional numbers. 
Setting the table
You'll need cups and saucers, a teapot outfitted with a loose-leaf tea steeper or strainer, appetizer plates, small forks and a sugar dish and creamer for the serving area. Many of these vintage pieces can be found at thrift shops or flea markets. Besides covering a table with a tablecloth, fresh flowers and napkins, opt to serve sweet or savoury items—nicely displayed, of course—on large platters with tongs so guests can pick and choose their own plates. 
Spread the responsibility
Consider hosting an afternoon tea themed potluck and giving attendees separate tasks, from setting the table to bringing one of the sandwich types or sweets for the table. Not only will this alleviate your load and save you time, it will help offset some of the cost.


General information not about PC Financial products is provided for your reference and interest only. The above content is intended only to provide a summary and general overview on matters of interest and is not a substitute for, and should not be construed as the advice of an experienced professional. The PC Financial® team does not guarantee the currency, accuracy, applicability or completeness of this content.