Revival of the Potluck Feast
Jan 3, 2019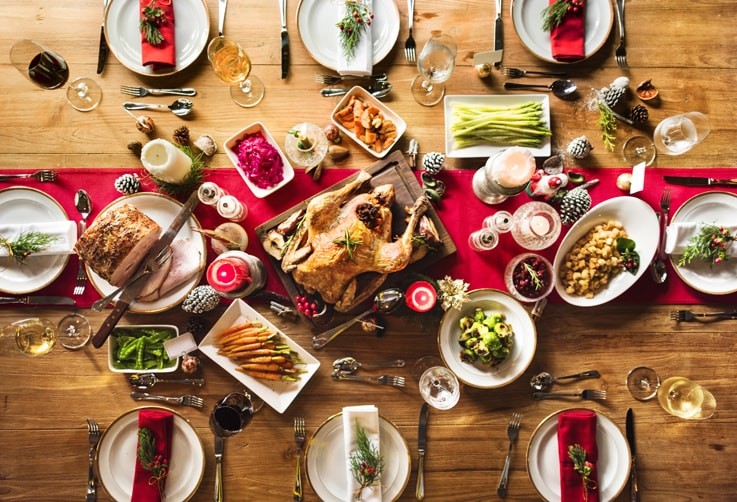 Potlucks might conjure images of poorly organized meals where everyone's brought the same pasta salad. But thanks to their budget savvy nature, potlucks have become en vogue once again. Not only do they alleviate the stress of hosting a gathering by not leaving any one person with too much to do, but in this day of dietary restrictions and food sensitivities, participants are able to bring at least one thing they know they can eat.
Besides introducing guests to a variety of foods that might be homemade or outside their normal repertoire, potlucks are inclusive opportunities that might even help boost the confidence of budding cooks looking for feedback on their creations. Hosting a potluck successfully does entail a number of considerations. Here's a potluck checklist for both the host and the guests, to ensure the simple gathering runs smoothly.
For the Host:
Have a loose plan. Potlucks are great opportunities to explore a theme, perhaps with recipes from a cookbook or a lesser-known cuisine. If the group is large, though, abandon the theme and cater to the group's general needs.

Set up an email, online document or physical sign-up list and be open to make adjustments or make alternative recommendations to guests so you don't end up with 10 pasta salads. Ask attendees to bring only enough food to serve half the group since there will be many dishes to sample.

Remind guests to indicate their dietary limitations, food allergies or other sensitivities (such as trigger foods).

Remember to include both alcoholic and non-alcoholic beverages. Don't forget the ice.

Be considerate of your guests' cooking abilities and budgets if you end up assigning any unclaimed courses, drinks or basics like disposable dishware and cutlery.

Plan a relatively balanced list of food categories, including finger foods like fruit and crudité platters that can be left out for guests to snack on, as well as starters and salads, mains, sides, starches and desserts.

Note and make room for dishes that need to be warmed or finished in the oven or stove before they're served. Plan which dishes need to stay in the refrigerator or freezer until service.

Whether disposable or reusable, make sure there are enough utensils and dishware for guests to eat with. Have towels or paper napkins available for use or to clean up potential spills.

Consider your surroundings. If hosting outdoors, make sure there are covers for the dishes of food to prevent any uninvited visitors from buzzing their way into the potato salad. If hosting indoors, make sure there's enough room and seats for guests, especially those who might have limited mobility.

Plan to have guests eat close to the start of the gathering, saving desserts for later. That way, straggling guests will still have something to munch on when they arrive, and guests needing to leave early will have had a chance to eat.

Offer guests take-away containers (or encourage them to bring their own) to take any leftovers, both preventing food waste and making for a great second meal.

Have fun and relax. Despite having a general plan or having made suggestions, if a guest is keen to bring a signature dish that might not go with the party's theme, just go with it.
Check out these additional tips and tricks to entertain guests on a budget: https://www.pcfinancial.ca/english/blog/entertaining-on-a-budget (opens in a new window)
For the Guest:
Bring everything that's needed for your dish, whether it's salt to season, green onions to garnish, or utensils to serve your finished contribution. Get all your supplies at your local Loblaw banner store, and you could earn PC Optimum points while you're at it!

Think of foods that are easy to scoop onto a plate since mingling guests could be eating while standing. Try to avoid soup or stews (unless it's something that could be served in a cup) and things that require cutting before eating or that are difficult to cut (a workaround is to have everything pre-sliced for ease of sampling).

If in doubt, opt to make a vegetarian dish like a brightly flavoured grain or bean salad. Given the popularity of hearty or comfort-driven dishes at most potlucks, bringing something crisp, vibrant or refreshing is a welcomed addition. Just leave the dressing on the side to avoid serving wilted leafy greens.

Avoid giving fellow eaters a foodborne illness by preparing food in a clean area and using separate cutting boards and utensils for raw versus cooked meats. This will help to prevent cross-contamination. Make sure that poultry is cooked to the proper internal temperature (measured using a food thermometer in the thickest part of the meat). When transporting food, keep cold foods in a cooler with ice or gel packs, and hot foods wrapped in insulated bags or towels.
General information not about PC Financial products is provided for your reference and interest only. The above content is intended only to provide a summary and general overview on matters of interest and is not a substitute for, and should not be construed as the advice of an experienced professional. The PC Financial® team does not guarantee the currency, accuracy, applicability or completeness of this content.