Your guide to maximizing your rewards with a PC Money™ Account
May 6, 2022
Who doesn't love a good spending moment? I know I do. There's only one thing I enjoy more than spending money and it's spending money that I already have and getting rewarded for it.
I love feeling like I'm a financially savvy queen, which means treating myself to more of my wants while still budgeting for my everyday needs. If you're like me and you prefer paying for everyday purchases with debit, but you don't want to miss out on rewards, then the PC Money™ Account is the better alternative.
How it works: Just fund your account with your weekly budget, shop accordingly, and earn PC Optimum™ points everywhere. The faster you stack up points, the more you can redeem them for everyday essentials or bigger splurge items! I highly recommend treating yourself on a normal basis.
Here's how I use my PC Money™ Account to earn PC Optimum™ points faster
Step 1: Fund
Every Sunday, I sit down with my morning coffee and plan out my week. I think about my weekly meal plan, all of the activities I've committed to, then I figure out how much I'll need to budget.
Here's what I usually budget for in a week as a millennial who's working from home: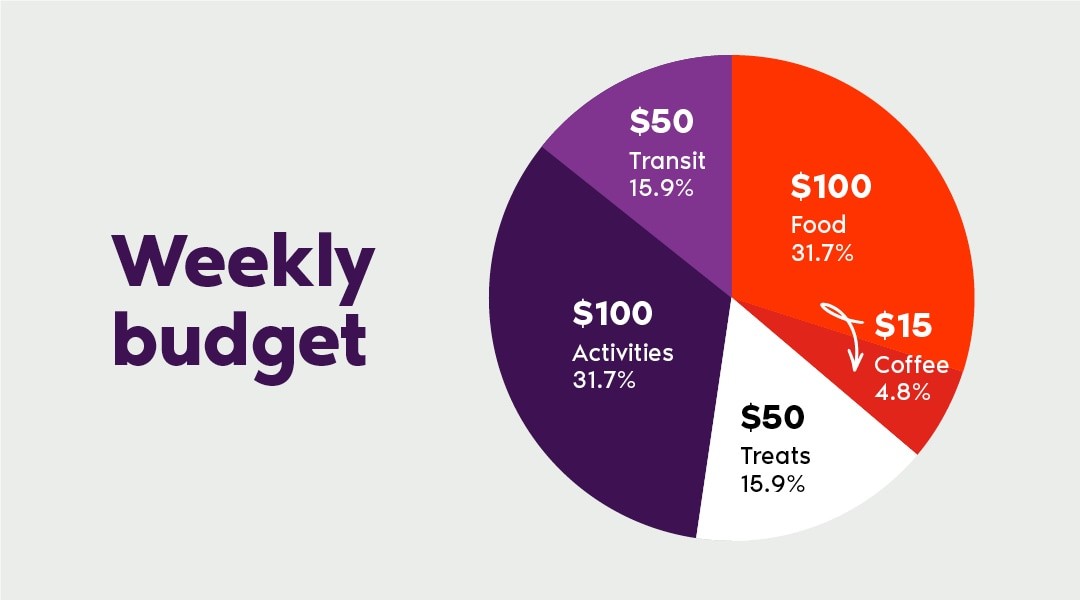 Once I've set my budget, I will fund my PC Money™ Account. There are four easy ways to fund your account but my preferred method is to send myself an Interac e-Transfer. Planning ahead and funding my account in advance helps me stay on track and within my budget.
Here are the four easy ways to fund your PC Money™ Account: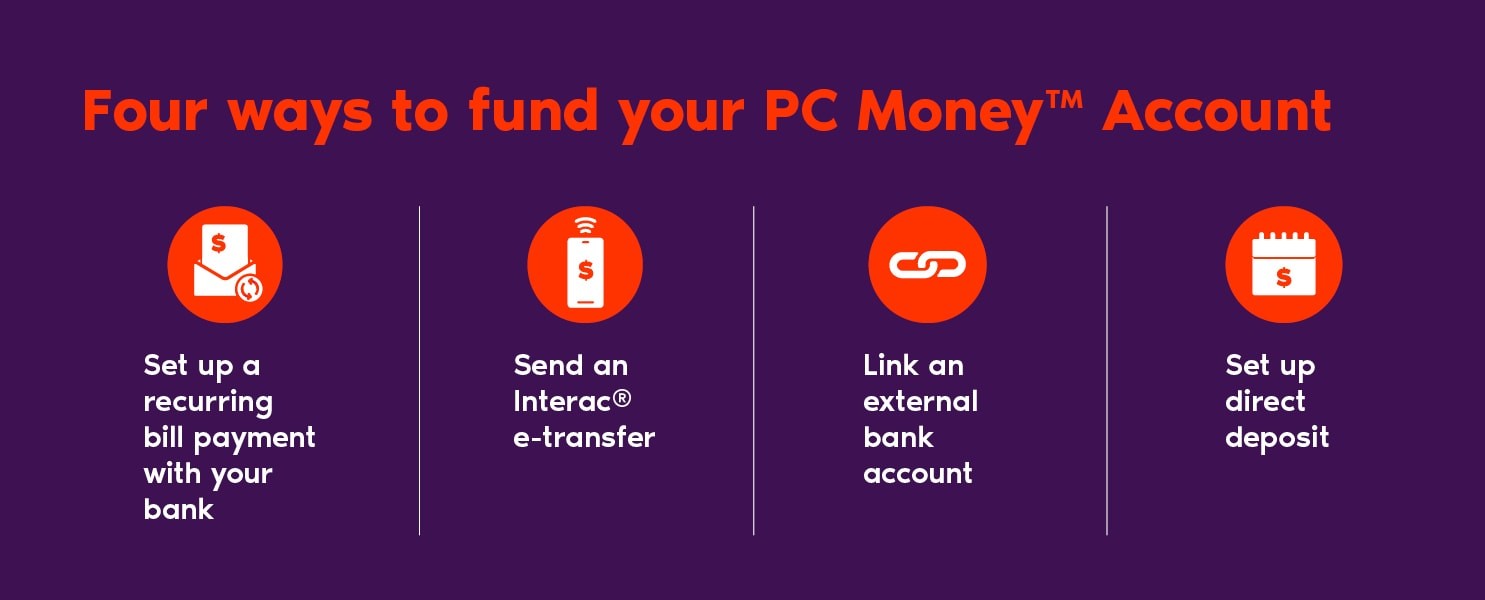 Step 2: Shop
Now it's time for my favourite part: shopping. Use your PC Money™ Account to earn points everywhere you shop, including online. With unlimited transactions and no monthly fee, I use it for everything.
Food: My food for the week includes groceries for meals at home, takeout on busier days, and dinner out on Fridays (because treating yourself is important too!).
Coffee and treats: clearly essential. I usually make coffee at home, but I also like to budget for a few cups at my local coffee shop for more hectic on-the-go days. This week, I used my PC Money™ Account to pay for my daily dose of caffeine, and also picked up a bouquet of flowers as a treat.
Activities and transit: I love exploring different neighbourhoods in my city. This week I checked out an art exhibit and used my PC Money™ Account to buy tickets online. I also used it to load my transit card to get there and back.
Whenever I question my spending, I just jump on the PC Financial mobile app. I use the Insights feature regularly to make sure that I'm staying on budget. Tracking my spending at my fingertips is so convenient. It's how I know if I need to move money from one category of my budget to another.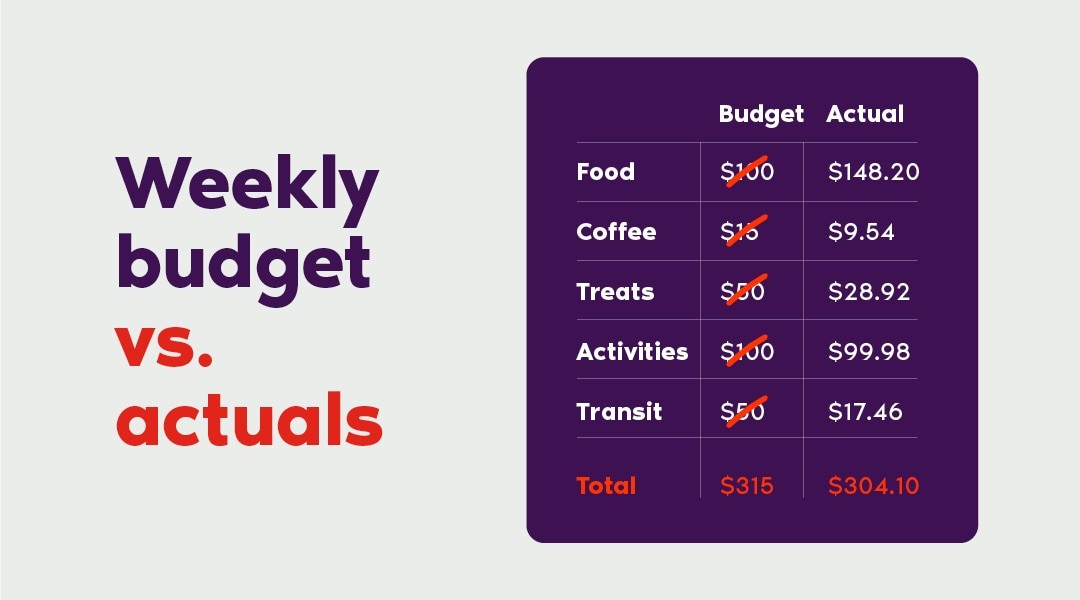 My total spending this week was $304 (vs my budget of $315), and it felt so good to be on track. I love that under budget feeling – that's what I'm talking about!
Step 3: Earn
Anticipated earnings (10 PC Optimum™ points for each $1 when I shop, up to 25 points for every $1 spent at Shoppers Drug Mart) = thousands of PC Optimum™ points a year!
The best part about the PC Money™ Account is that it helps you earn PC Optimum™ points on every purchase you make. There are some things I prefer paying for with debit, but the PC Money™ Account is a better choice because I still want to earn as many points as possible. With the PC Money™ Account you'll earn 10 PC Optimum™ points for every $1 you spend everywhere you shop, and up to 25 points per dollar at Shoppers Drug Mart.
Looking back at my budget, it's obvious that my top spending category is food. I'm always looking for ways to save including flyer deals and loading all of my PC Optimum™ offers. With the PC Money™ Account, not only am I getting points on groceries and everywhere else faster, but I'm also not paying a monthly fee which means I can splurge a little more on food if I want to.
After I've earned 10,000 PC Optimum™ points with my PC Money™ Account, I can now redeem them towards groceries at participating stores.
Are you ready to start earning more points with your own no monthly fee PC Money™ Account? For a limited time, receive up to 200,000 PC Optimum™ points in welcome offers.
Sign Up Now.
(opens in a new window)
Disclosure: This is a sponsored post on behalf of President's Choice Financial®. The opinions on this blog are my own.
**Minimum redemption is 10,000 PC Optimum points (worth $10 in rewards) and in increments of 10,000 PC Optimum points thereafter. Some redemption restrictions apply; visit pcoptimum.ca for details and full store list.
General information not about PC Financial products is provided for your reference and interest only. The above content is intended only to provide a summary and general overview on matters of interest and is not a substitute for, and should not be construed as the advice of an experienced professional. PC Financial does not guarantee the currency, accuracy, applicability or completeness of this content.