Maximize your earning point-ential: PC Optimum™ offers now available in the PC Financial® Mobile App
PC Financial® customers can now load their weekly PC Optimum™ offers and manage their everyday banking, all in one place.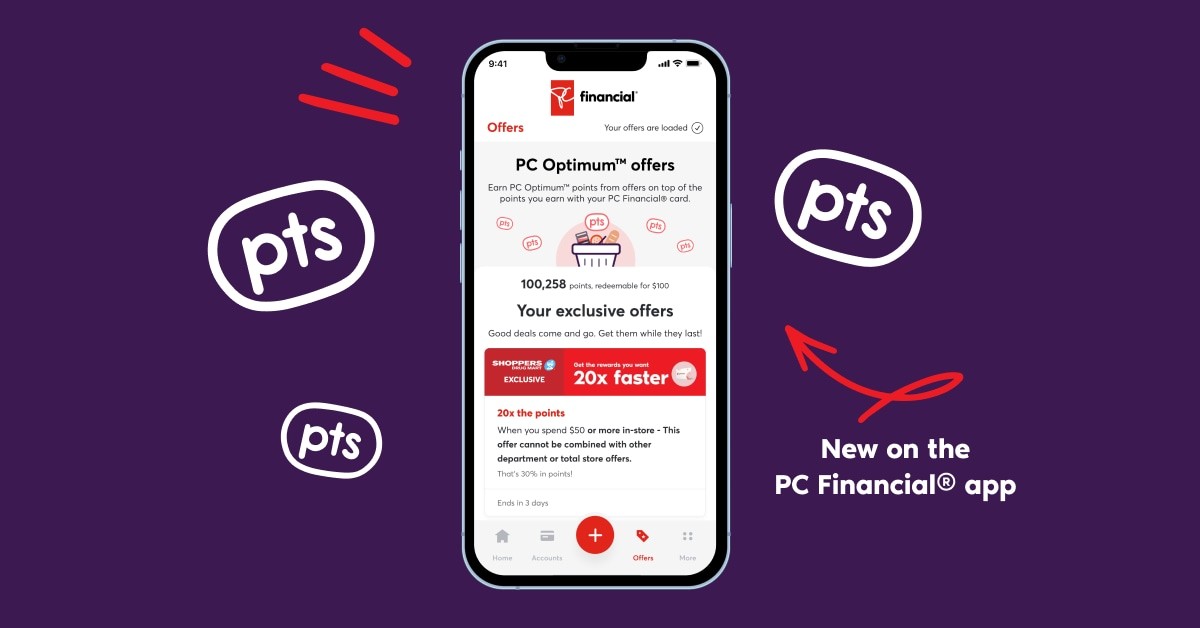 (TORONTO – JULY 11, 2022) Starting this week, PC Financial® customers can access their weekly PC Optimum™ offers directly in the PC Financial® Mobile App. PC® Mastercard® cardholders can combine the points earned on their purchases with their weekly offers to earn up to 10% back in points.
Customers already use the app for their everyday banking needs, and now they can load their PC Optimum™ offers to maximize their earning point-ential.
"PC Optimum is one of Canada's most trusted loyalty programs. Introducing the PC Optimum offers in the PC Financial app will allow our customers to seamlessly access their offers weekly, giving them more opportunities to earn up to 10% back in rewards, that can be redeemed for everyday essentials like gas, groceries, beauty, and apparel at participating locations," said Carola Corti, GM of Payments at PC Bank. "This is yet another way we're helping Canadians live life well."
Every Thursday, the PC Financial® app will reveal new 'personalized offers to load' based on customer purchasing habits. Customers can also find customized in-store promotions to earn extra points.
PC Optimum™ points can be earned, and redeemed, at Loblaws®, No Frills®, Real Canadian Superstore®, Zehrs®, The Mobile Shop™ locations, Joe Fresh®, Shoppers Drug Mart® stores, and Esso™ stations.
To learn more about PC Financial® products, please visit pcfinancial.ca
---
About President's Choice Financial®
PC Financial® services provide unprecedented value to customers, simplifying financial products to help Canadians Live Life Well®. Through the PC ® Mastercard® and the PC Money™ Account, customers save on banking fees and have earned more than $1 billion worth of PC Optimum™ points to redeem for beauty, groceries, gas, apparel, and other products. The company is committed to being one of Canada's most diverse and inclusive employers and makes it a priority to reflect this in its people and culture. 
Established in 1998, PC Financial® is a part of Loblaw Companies Limited. For more information, visit pcfinancial.ca.