3 things to know before choosing a credit card
Feb 24, 2023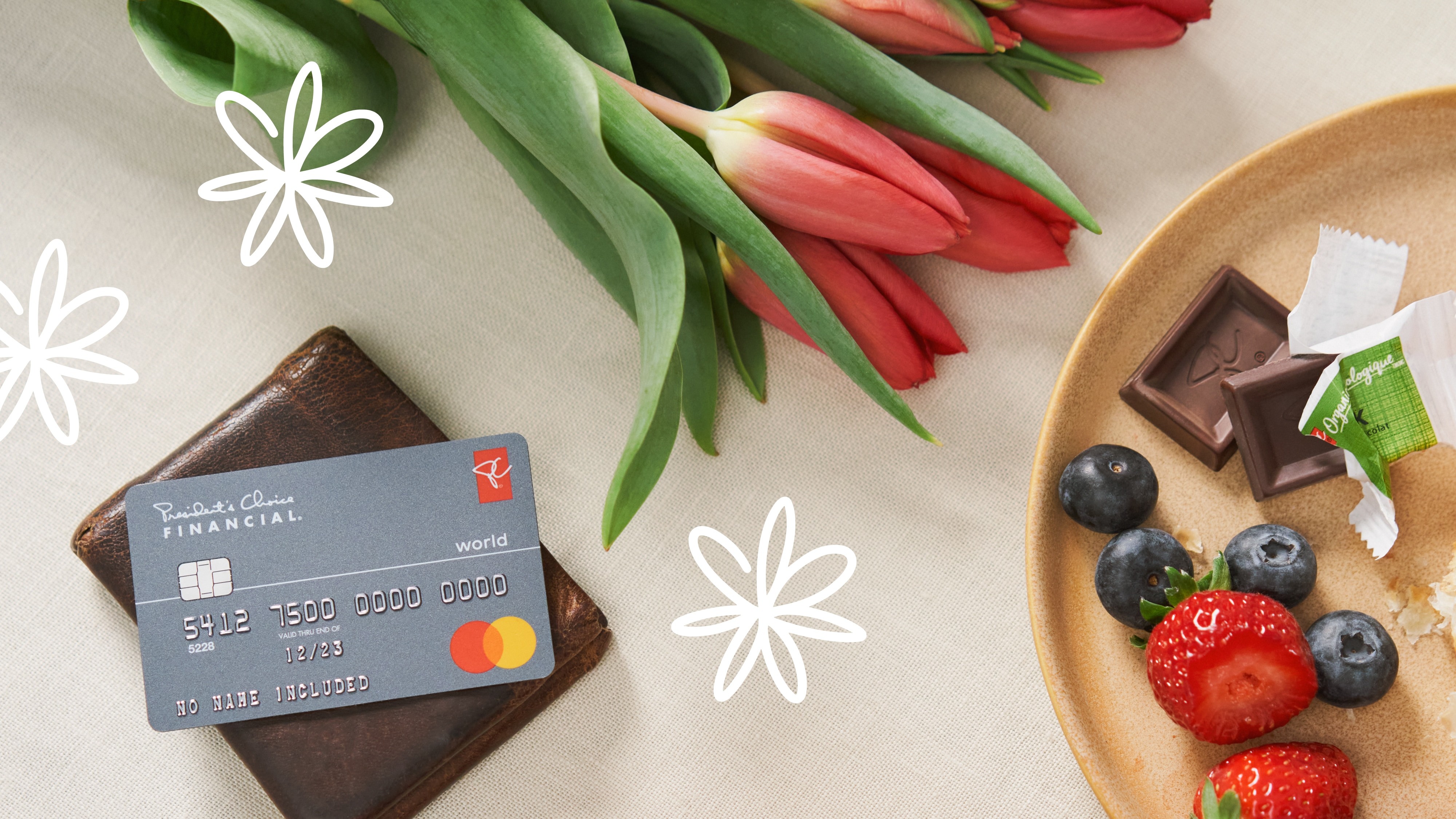 Getting approved for a credit card is a major milestone in your life as a future financial wizard. It means carrying less cash, having a way to spread out payments on larger purchases, and it's a big way to start building your credit history. Before you take the plunge, it's important to know the basics, including how credit cards work, why it's good to have one, and how to best manage it. Read on for some of the most important things to know before you say, "charge it."
What is a credit card and how does it work?
A credit card is extended to you by a bank which lends you a set amount of money to pay for goods and services. Every credit card has a spending limit, and your personal limit may depend on your income and/or credit history. Every credit card also has an interest rate that comes into effect after a grace period (usually 21 days). During the grace period, if you pay your full balance, you will not be charged interest on any applicable credit card purchases. There are a lot of different credit cards out there but typically there are only three major differences among them: the interest rate, the fees, and the rewards they offer. The key is to consider all these factors to find the right credit card fit for you.
What are the benefits of having a credit card?
Having a credit card gives you the flexibility to buy now and pay later. Another major benefit is that it helps you to build your credit history. Your credit history is based on a score you get when you manage your credit responsibly, by doing things like paying your credit card bill on time and never spending above your limit. Having a good credit score is important when you want to take bigger and bolder financial steps in life, like borrowing money, renting or buying a home, or negotiating lower interest rates on your loans.
Another benefit of having a credit card is the rewards it offers you. Choose a card that has rewards you'll actually use that are easy to redeem. If you're already a PC Optimum™ points fan, then getting a PC® Mastercard® feels like a no-brainer: it's the ultimate points-accelerator for gas, groceries, and beauty essentials. You can earn up to 30 PC Optimum™ points¹ for every dollar you spend at participating stores like No Frills®, Real Canadian Superstore®, Loblaws®, and Maxi®, up to 45 points per dollar² at Shoppers Drug Mart® and Pharmaprix®, and 10 points per dollar on your purchases everywhere else. What's more, the PC® Mastercard® has no annual fee, no caps on points earning, and it offers security features like best-in-class fraud detection tools to help keep your finances safe.

Not ready for a credit card yet? The PC Money™ Account offers another option, earning you up to 10 PC Optimum™ points per dollar³ when you shop at participating stores and 5 points per dollar everywhere else you shop. You can also earn up to 5,000 points per month for paying your bills⁴, so use it to earn points for paying your credit card bill. When you have both a PC® Mastercard® and a PC Money™ Account, you can use the 'Move Money' feature in your PC Financial® app to pay your monthly PC® Mastercard® bill from your PC Money™ Account. Name a more rewarding duo? We'll wait.
How do I manage my credit card?
Remember, having a credit card doesn't give you access to free money. Make sure your budget can cover the expenses you're using your credit card for. Here are some other tips for managing your card responsibly:
Stay on top of your payments
Ideally, you'll want to pay your full balance on time to avoid a late payment which can hurt your credit score. Make it easy by setting up a recurring payment to your credit card. If you can't pay your full credit card balance right away, then make at least the minimum payment. Aim to keep your credit card balance low—the Financial Consumer Agency of Canada recommends using only about 35% of your available credit—and make sure you don't go over your limit.
Check your statements
Another thing to keep an eye on as you use your card is your monthly bill—also called a statement. You'll want to check it frequently and sign up for e-statements to track your purchases on the go.
Keep your finances safe
Be sure to always keep your credit card information confidential, including your physical card, your PIN number, passwords, and CVV number, which is the three-digit security code on the back of your card. If you suspect that your PC® Mastercard® has been lost or stolen, you can automatically lock it in the PC Financial® app to prevent unauthorized purchases. Here's how to do it on your desktop computer and mobile phone:
Sign into your online account.

Click "Account & Cards"

Click "Cards"

Click "Lost / Damaged Card" if you are still in possession of your card but need a new one.

Click "Lost / Stolen" if you no longer have your card.

Follow the on-screen prompts to complete your request.
Get insurance
In case of an emergency that causes you to be unable to make your credit card payments, many credit cards offer a payment support plan. It's optional insurance that may help with the payments on your credit card in case the unexpected happens. Learn more about the payment support plan available for the PC® Mastercard® here.
Add an additional cardholder
Want to add an additional cardholder onto your PC® Mastercard® to increase your opportunity to earn rewards? You can add an additional cardholder on your PC® Mastercard® in the PC Financial® app. Find out how here.
Now that you know the basics of how credit cards work, check out all the perks of getting a PC® Mastercard®. Apply now.
Already a customer? Sign-in.
1Earn a minimum of 10 PC Optimum™ points per dollar on all of your purchases charged to the credit card. Any bonus PC Optimum™ points offers available to all PC Financial® Mastercard® customers are calculated based on the regular earnings rate of 10 PC Optimum™ points per dollar spent. This offer may be terminated or changed at any time.
2All PC Optimum™ members earn 15 points per dollar on eligible purchases at Shoppers Drug Mart® and Pharmaprix®. When you use your PC Financial® Mastercard® you will earn additional points per dollar: 10 points per dollar for PC Financial® Mastercard® cardholders; 20 points per dollar for PC Financial® World Mastercard® cardholders; and 30 points per dollar for PC Financial® World Elite Mastercard® cardholders.
3Earn at least 5 PC Optimum™ points per dollar on qualifying purchases with your PC Money™ Account, wherever your card is accepted. Earn 10 PC Optimum™ points (5 regular PC Optimum™ points plus a bonus of 5 PC Optimum™ points) per dollar on qualifying purchases at participating Loblaw banner stores, Shoppers Drug Mart® stores, Joe Fresh® stores, and Esso™ and Mobil™ stations in Canada. Bill payments, electronic funds transfers, account fees and interest are not qualifying purchases for the purpose of earning PC Optimum™ points. PC Optimum™ points will be deducted for any credits or returns. President's Choice Bank reserves the right to cancel, change or extend regular and bonus points earning rates at any time. Account must be in good standing at time of qualifying transaction and awarding of points. 
4Earn a bonus of 1,000 PC Optimum™ points for each of up to five bill payments of $50 or more to unique payees, per calendar month, made using a valid PC Money™ Account. Bonus points will be awarded to your PC Optimum™ account within 2-3 weeks of a successful bill payment.
5Annual 10% back in points may be achieved in numerous ways; including when you spend on average $7,000 using your PC Financial® Mastercard® in combination with the PC Optimum™ loyalty program, with approximately: (i) 65% of that spend allocated to purchases in our stores that maximize personalized offers in our grocery stores from the PC Optimum™ program; (ii) 15% at Shoppers Drug Mart®/Pharmaprix® on 20x Points Days and (iii) 20% everywhere else. Our stores means affiliated Loblaw banner grocery stores and Shoppers Drug Mart®/Pharmaprix®. Visit pcoptimum.ca for details on participating stores where the PC Optimum™ program is offered. Value shown is for illustrative purposes only; results may vary based on individual purchase behaviour.
General information not about PC Financial® products is provided for your reference and interest only. The above content is intended only to provide a summary and general overview on matters of interest and is not a substitute for and should not be construed as the advice of an experienced professional. PC Financial® does not guarantee the currency, accuracy, applicability or completeness of this content.