5 ways PC Financial® simplifies digital banking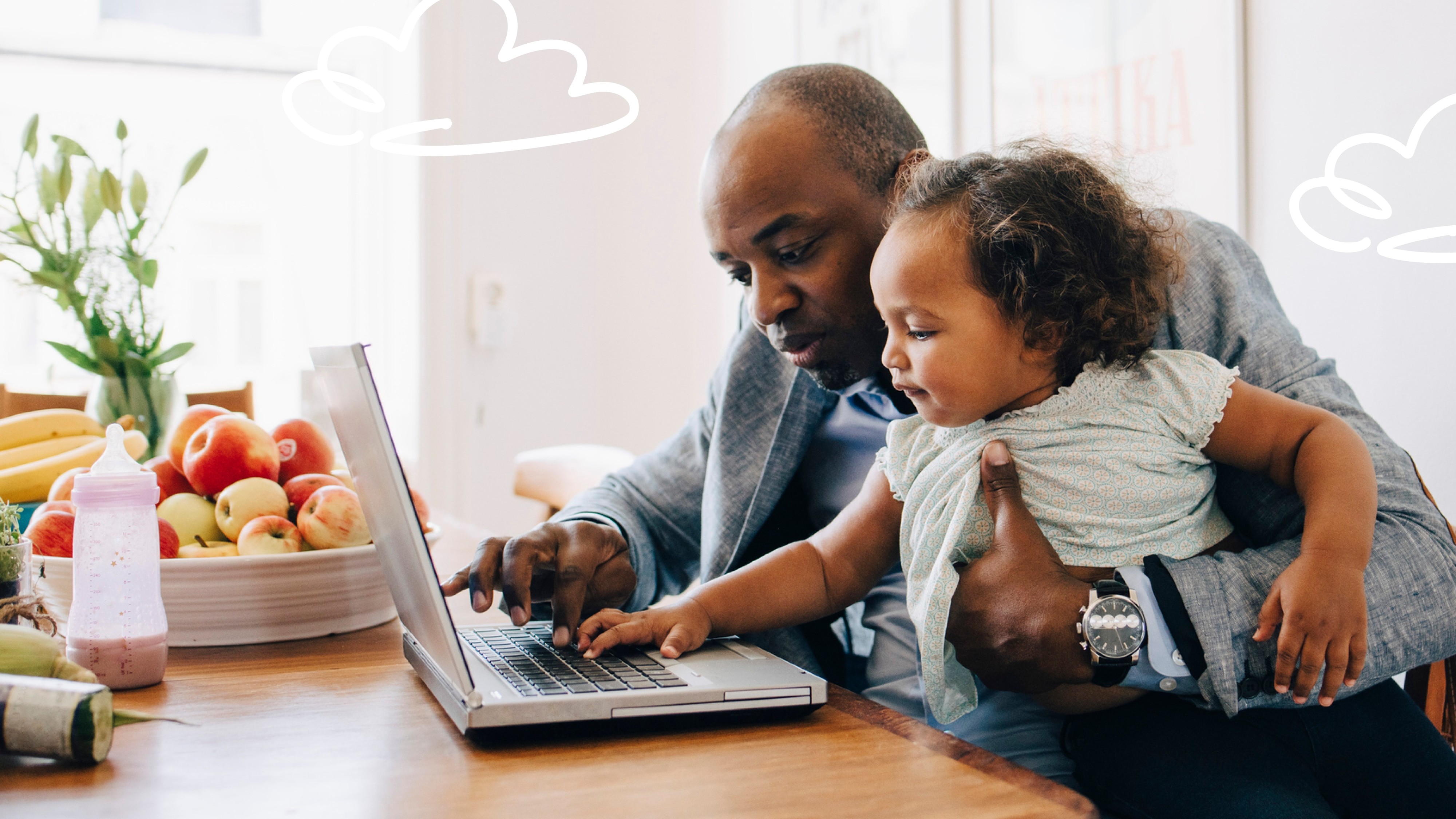 You get so many of the things you need online—music, groceries, that memoir you were supposed to read for book club last week—shouldn't paying your bills and transferring money be as convenient?
Come along with us as we demystify digital banking and show you how to make the most of the PC Financial® mobile app and site. It's the key to budgeting, managing your PC Optimum™ points, paying bills, and making every day finance tasks fast, safe, and easy—with zero intimidation.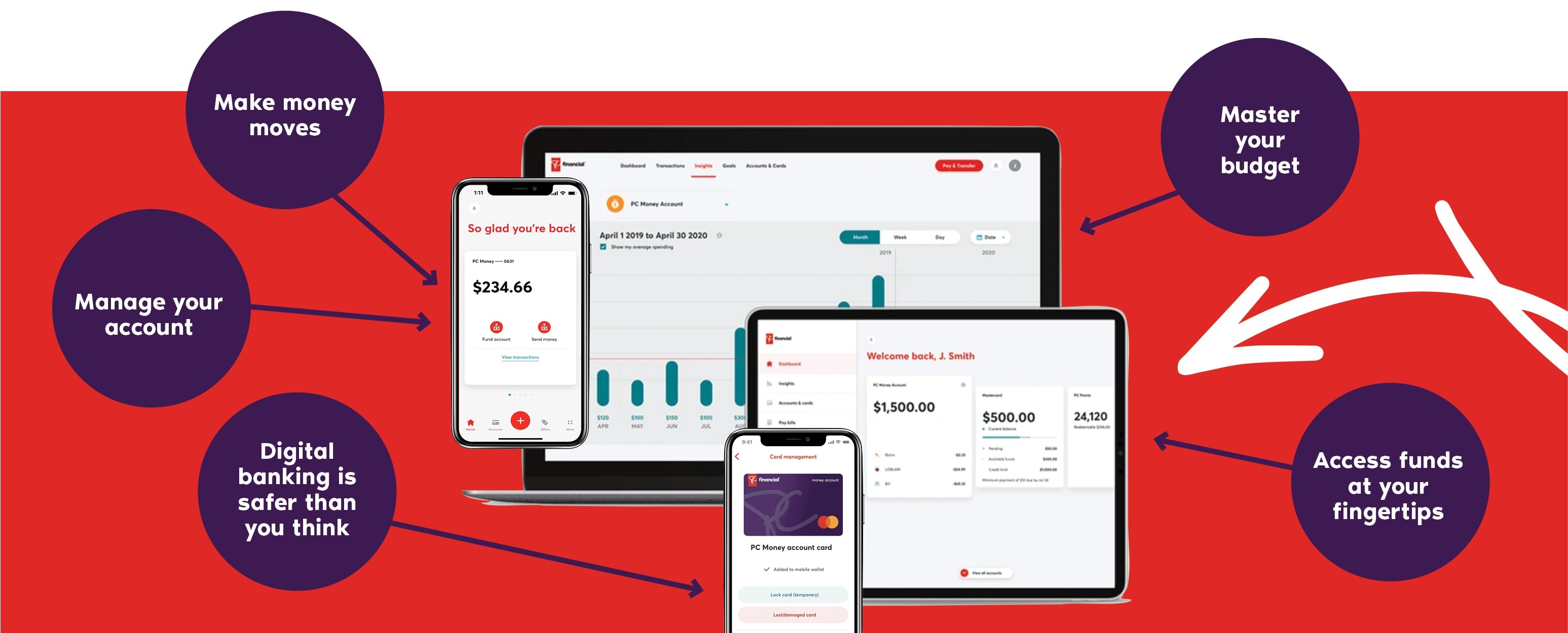 Here are 5 ways you can use digital banking to simplify your life:
Master your budget
Keeping a budget can be daunting—but not when it's simplified for you. PC Money™ Account and PC® Mastercard® cardholders have access to the 'Insights' feature in the PC Financial® app. This tool gives you a clear picture of your purchasing patterns to make it easy to track your spending. As you observe your average spending trends in a daily, weekly, or monthly view, you may start to see areas where you can trim and save.
Access funds at your fingertips
Getting your banking done online means you can do it from anywhere, on the go. And in the spirit of keeping things digital, have you considered going cardless? If you're already doing your banking online, try tapping your phone to pay for your purchases too. You can easily add your PC Money™ Account and PC® Mastercard® to your mobile wallet through your PC Financial® app. Just go to "Accounts" and select the card you'd like to add to your Apple Wallet (iPhone) or Google Pay (Android). Then you'll be ready for contactless pay.
Make money moves
Did you pick up the bill at dinner last night and now it's time to collect everyone's share? Send a friendly Interac e-Transfer® request in the PC Financial® app to remind your most forgetful friend of the tally. Be sure to also set up direct deposit for your payroll or pension to fund your no monthly fee PC Money™ Account. Having your PC Money™ Account always funded makes earning points everywhere you shop even easier.
Manage your account
A common side effect of the app's many features: you may end up feeling like an extra-productive human. Want to check your PC Optimum™ points balance and your redeemable points value? Done. (Tip: the more you pay with your PC Money™ Account or PC® Mastercard®, the more points you'll earn to redeem towards free stuff² at participating stores —which you can then use to offset some of your budgetary expenses!). You can also set up automatic bill payments (and get up to 5,000 points each month for them too!¹). Use the app to keep track of e-statements and set custom alerts for payment due dates for your PC® Mastercard®. Need to change your address or update your email? A cinch! Set a travel notification? Easy, breezy! You can also personalize your profile, upload a photo, and add trusted devices. It's all super simple, and it's all right there in the PC Financial® app.
Digital banking is safer than you think
Your PC Financial® app is easy and secure, with two-factor authentication and new optional features that allow you to use your fingerprint or facial recognition for added convenience. Not sure where you left your card? Help protect your account by temporarily locking it and replacing it if it's lost or stolen.
The best way to discover all the perks of digital banking is to download the PC Financial® mobile app today. Are you ready for digital banking that's fast, easy, and safe? If you have not already signed up for a PC Money™ Account or a PC® Mastercard®, sign up now!
¹Earn a bonus of 1,000 PC Optimum™ points for each of up to five bill payments of $50 or more to unique payees, per calendar month, made using a valid PC Money™ Account. Bonus points will be awarded to your PC Optimum™ account within 2-3 weeks of a successful bill payment. Subject to change.
²Minimum redemption is 10,000 PC Optimum™ points (worth $10 in rewards) and in increments of 10,000 points thereafter at participating stores where President's Choice® products are sold. Some redemption restrictions apply; visit pcoptimum.ca for details, participating stores and full loyalty terms and conditions. 
Apple, the Apple logo, iPhone, and iPad are trademarks of Apple Inc., registered in the U.S. and other countries and regions. App Store is a service mark of Apple Inc.
Google and the Google logo are registered trademarks of Google LLC.®/TM Interac, Interac e-Transfer and the Interac logo are registered trademarks of Interac Corp. Used under license.
General information not about PC Financial® products is provided for your reference and interest only. The above content is intended only to provide a summary and general overview on matters of interest and is not a substitute for, and should not be construed as the advice of an experienced professional. The PC Financial® team does not guarantee the currency, accuracy, applicability or completeness of this content.